My Approach To 'Learn' Faster Than The Other Guys
Reading Time:
5
minutes
Morning all,
Here's the time:
I wanted to discuss this morning my approach to learning with the hope you might be able to 'nick' things from it –
Let's get into it –
So –
Every Friday I have a weekly accountability/coaching call with Valentina Kbedi –
On that call, we'll set 'targets' for each week.
These will statistically almost always include some type of learning target.
At the moment it's a combination of audible and blinkist learning – my 'go-to' places for new learning.
Here's the approach –
For the last couple of weeks, I've been screenshotting her my 'blinks' completed from blinkist –
I'm reading around 7-12 each week – all related to business/health in one or another aspect.
With Blinkist it's a relatively small time commitment of around 7-12 minutes (as I listen at 2x) – and then the goal is (where applicable) to extract one or two actionable insights from the blink I'll go through and try and feed that into my daily life.
Moving to Audible, last week I stumbled upon this book: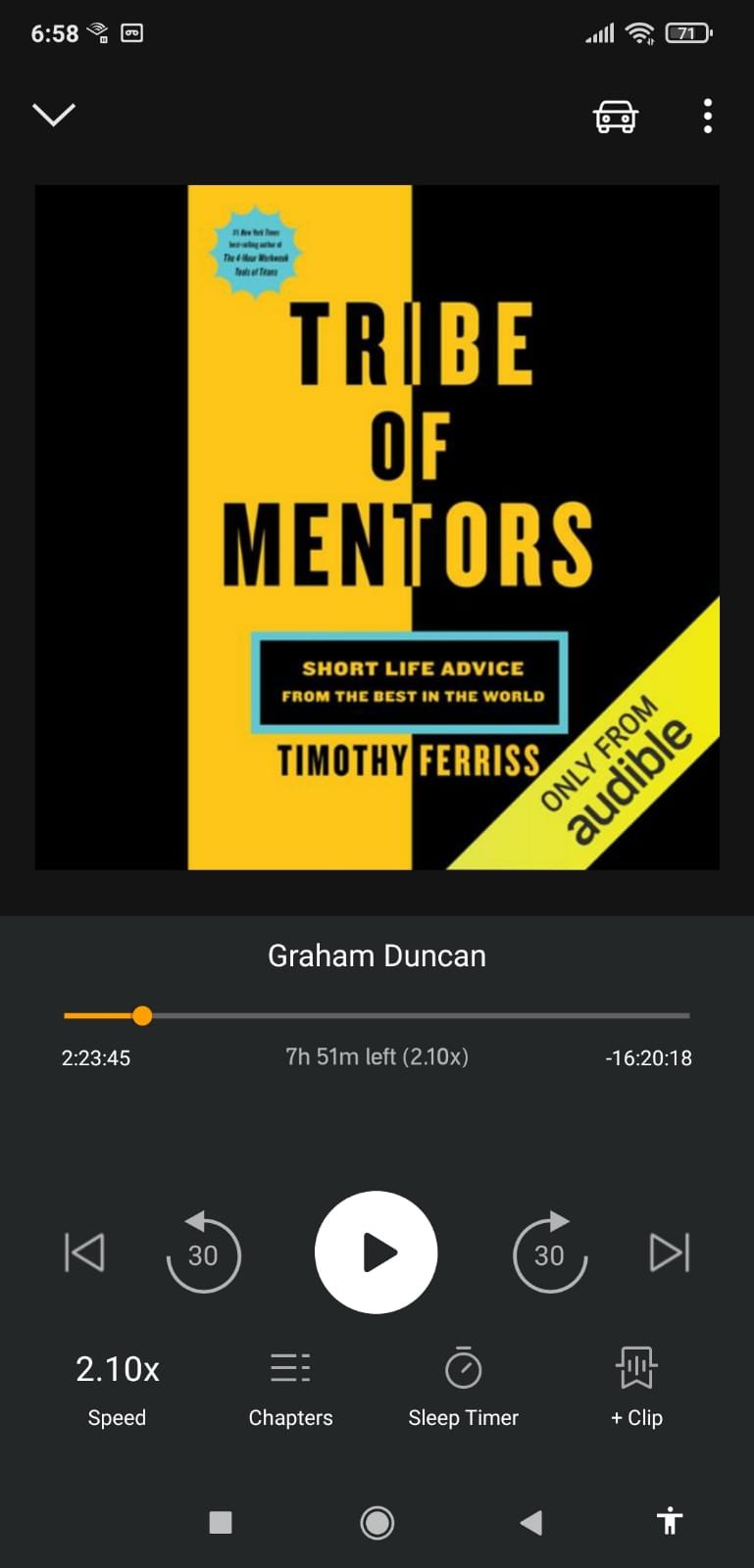 And as you can see I got rather into it (2 hours 22 minutes in) – and have started making notes on the book.
Things I'm learning from it:
The 'coffee before writing' is brilliant – I unknowingly have been implementing that since I learn before my coffee and then I 'create' AFTER my coffee.
So I'll feed this into telling my team when to 'tactically' take their coffee.
I then told Valentina about this and we 'rebuilt' my goal of reading some of Audible also – the goal being 90 minutes this week.
_________
Tribe of Mentors has actually led me to bookmark 20+ blinks on Blinkist which I'm quite excited to get my teeth into.
Generally – when there's not something specific I'm looking to learn – my reading will 'meander' and I'll read 'whatever tickles my interest'.
However – occasionally – like now – I'll have a specific need like upskilling the ability of my cold calling team.
That BEGINS with upskilling myself also – and to start – it's with making cold calls (I've already been doing this) as well as learning –
With this in mind – I just finished THIS book this morning:
It's 1 hour 24 minutes – which I finished in around 40 minutes (listening at 2.10x speed).
However – whilst reading I also would stop and take notes which you can see here:
As you can see there are apparently 53 things I made note of whilst reading the book.
Writing things down really cements the learning in my mind – and in particular, I ONLY note down the things I find interesting.
Rather than trying to digest everything 'word for word' – which never works anyway – my focus is around the sections that emotionally stimulate me.
It's with those parts I try and reinforce my learning to ensure I cement the emotional adrenaline or serotonin rush I get when I read something new – to really ensure that I retain it.
Outside of all of this – we also have this content that I write on a daily basis. As much as I can – I do try and write every day.
It's my way of sharing my thoughts with the world – and as you can imagine – I write whatever it is I am excited about or am thinking about.
__________
Every Friday at 3 pm – I'll also train the team for an hour:
28 people are invited, and typically 12/13 people turn up.
Over time this has produced 120+ videos which is pretty incredible:
And in this way I'm able to teach what I've learned (and understand it even more) and slowly upskill the team.
___________
Currently – I have an urgent need to improve the sales ability of the new team I'm building so I'm training these guys daily at 8 am:
This is what is driving me to learn more about 'appointment setting' in general –
And why I've downloaded these books from Audible –
I might not even get through them both – but I'll follow my intuition as to when I've had 'enough' – but as it stands there's a burning need to improve the ability of my team and so correspondingly I want to accelerate my own growth so I can give back.
I've also spent probably over $50,000 in paid courses – let me show you:
I'll sometimes share logins with friends or otherwise – but you can see how much I've got here.
These are typically practitioners in their field who are at the 'edge' of their learning. And then 'now and again' whenever I feel like trying to learn something new I'll dive into one of these courses – but in quite a specific way –
I'll 'skim' – and I'll skim the PDFs to begin with
Here's a good example: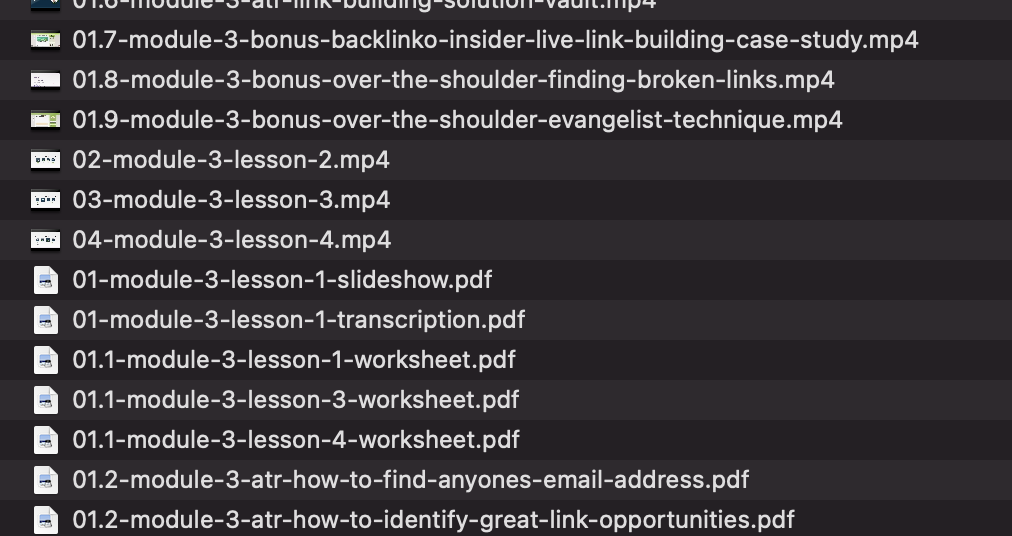 The PDFs are where the information can be consumed the fastest and I'll try and 'scan' for something I can 'steal and assimilate into my team'' really quickly.
Then I'll rename that sheet and share those learnings with my team:
You can see the thread here:
This will take the forms of PDFs sent on as well as videos I'll record:
And then to go back to the daily sales training:
All of that is recorded also – so that each time we onboard someone new – they can 'upskill themselves' as quickly as possible.
_________
Right, I've well exceeded the 20 minutes I had planned for this blog (we hit 31 minutes!).
But I hope that gives some insights into my approach with learning.
Steal what feels like it'll work for you!
Thanks!
META TITLE:
My Approach To 'Learn' Faster Than The Other Guys
META DESCRIPTION:
Read our latest blog on how to learn faster. Learn about Deepak's approach to learning faster and using blinkist.