Building A Feline Empire One Blog At A Time
Reading Time:
4
minutes
Morning all,
So here's the date and time today – and I want to share with you my journey into building an 'empire' around cats.
So around 6 weeks ago one of my cat's died unexpectedly – Tommy.
It came as a shock to me because it all happened so fast.
Around December the 23rd my folks dropped me off around midnight at Heathrow airport so I could get an overnight to Stansted airport to then get my flight to Turin.
By the time I landed in Turin the day later – it was my partner Daniela who told me that Tommy had suddenly died overnight.
My parents dropped me off at the airport and by the time they returned from the airport – Tommy was dead in the living room.
That cause me alot of upset and hurt because between us, without getting an autopsy done we will never find out what actually happened to Tommy.
The sad thing about this all – was that the day before his behaviour had been a little strange. Even in the car on the way to Heathrow airport there was a discussion between my parents and I about taking him to the vet the day after.
There was alot of hurt and tears once this news came to light. I was unhappy with my parents that they decided to not give me the news until after I arrived in Italy as they decided it would stop me from going (which is absolutely what would have happened).
I was unhappy he wasn't taken to the vet sooner and some angry words were exchanged (or rather directed) at my parents. Initially during my anger I blamed them for negligence. In hindsight – the fault was all mine.
Tommy was a pet I had bought and then left him at my parents several years ago. And then I realised the catalogue of my errors:
I never bought cat insurance for him
I never had a calendar even to track when he needed his annual checkups
I never documented / stored all his medicinal history
I passed up on doing some of the checks and scans that you can do for pets because it cost money…
Unfortunately – I made these connections too late after Tommy had already passed.
So…
I guess you're wondering how in the hell this relates to the title of this blog lol.
Well –
Not long after – I decided it would make sense to begin a renewed journey of education for cats.
A couple of things became obvious to me:
I'm going to keep cats for at least the next decade
If that's the case I should invest in them the same way you do anything you make a commitment to
Realistically – I have my other cat Jenny who lives with us – and I had a continued chance to improve my knowledge and therefore level of care
So what did this mean practically?
Taking massive action –
On the 4th of January I registered:
We bought an existing website called 'All Animal Experts' and redirected those blogs to ours.
Our blog now has 32 pieces of content.
The plan is – is to build a cat blog with 500,000 words of content and run 3-months of SEO on the site.
In parallel I'm also reading:
And I just finished reading:
Then we invested in a climbing frame for our cat Jenny and put it up onto our walls: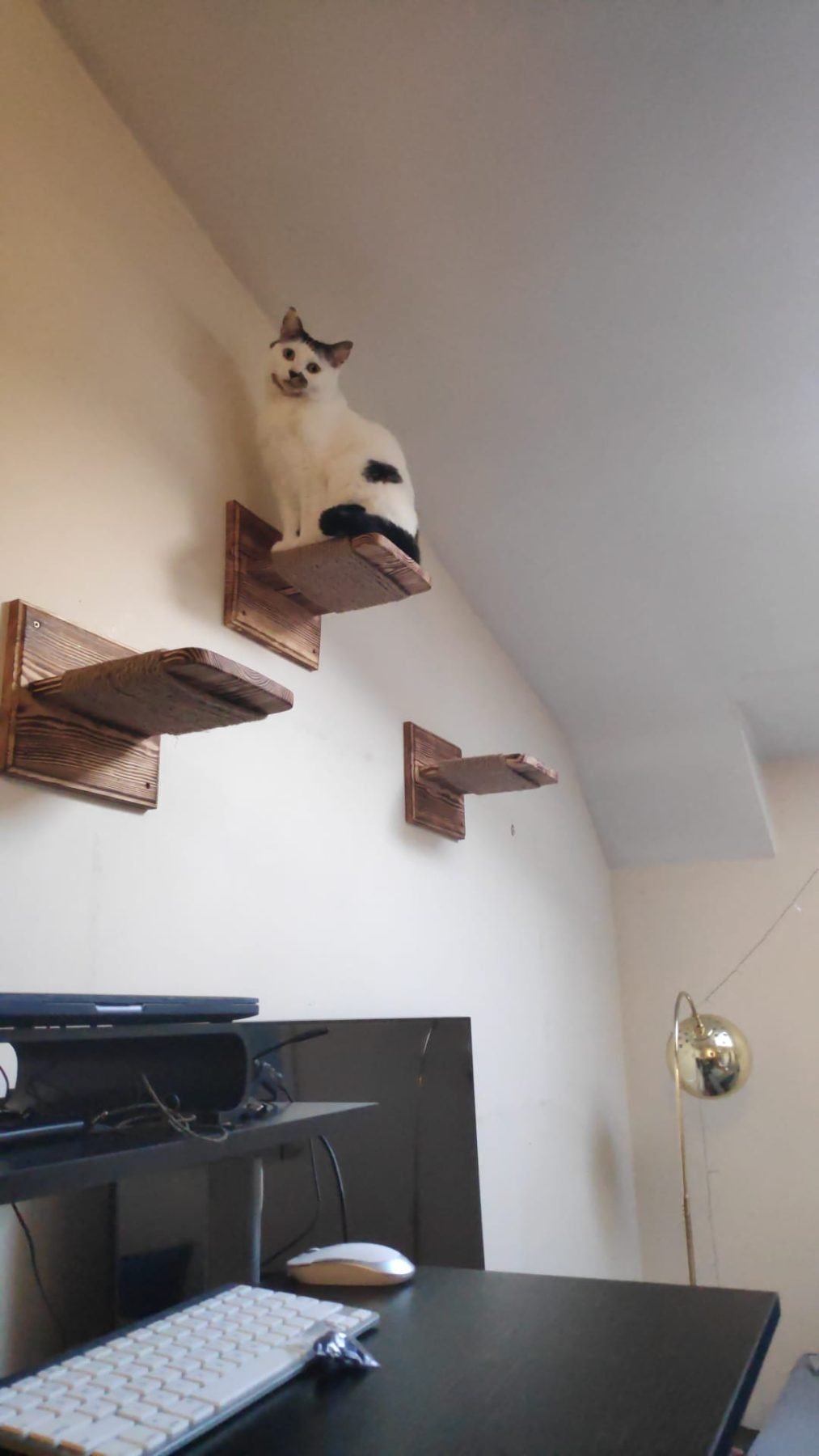 We also signed up for a service where you can get Vet consultations as often as you want:
Pawp – amazing site!
So….all in all – this is perhaps what I'm trying to underline –
That building the blog now is tying everything together.
The simple aim with all of these elements is to keep deepening my relationship and knowledge with the world of cats.
And I have these two little creatures to thank for it – whom I bought back in September of 2015.
Tommy has since passed but Jenny is still with us – helping drive all of this interest I have in well…
Building a feline empire – one blog at a time 🙂
If all goes to plan and I can build a high traffic website based around cats – then lots can come from this adventure 🙂