Adopting A Kitten In A Favela In Brazil; And Our Adventures In Rio
Reading Time:
7
minutes
Hey Guys,
I sat around a plastic outdoor table up in the mountains of Rio; sipping a Caipirinha with a group of travellers who were all staying at the same hostel with me; reflecting upon the journey that got me to that table.
And would leave me with getting a tattoo on my back of the cat I was to adopt from the town I was in:
The day began with us headed out to the beach, and sat around there for the afternoon wiggling our toes in the sand – getting to know each other before we would head up towards Vidigal; a favela up in the mountains.
I'd only been in Rio for a week in what was going to be a momentous stay.
I'd just left Lisbon behind after completing a 30-hour ultramarathon in Madeira – and now the plan was to learn to fight MMA.
Today, however – the plan was to take the afternoon off and hang out with some of my new friends.
I was staying at the Caipe hostel and had already found a gym and was in the midst of a search for an apartment to live in for the duration of my three-month stay – and felt that the first week I could dedicate to also having some fun.
One of the group members, Lucy, had spent some time in Vidigal at a hostel she said was a good place to hang out.
Lucy, myself and a couple of the guys all thought 'sounds good!'.
What no one knew, however – was that the former owner had been shot dead some months before.
As the day started drawing to a close.- we finished up at the beach and caught a local bus that was headed towards the bottom of the mountain
I was 25 years old and living in Rio in search of adventure.
Once we got to the bottom of the mountain – the most practical way up seemed to be on bikes.
Motorbikes.
Every time I've stepped on a bike in a developing country (or indeed anywhere) there's been that moment of worry about how vulnerable it leaves you if you were to crash…
But hey-ho.
That did not stop me from getting on.
We all got on a bike one by one and slowly started zipping up the mountain on these little pieces of leather set on an engine with wheels as we climbed high up the mountain.
The higher we got the more desolated and dangerous it felt like it became – especially with the speed at which we travelled.
The fact I was in my shorts, flip-flops and a t-shirt and on a road that was unpoliced, brimming with life and going further and further 'up into the mountains' and away from regulated civilisation was becoming obviously clearer
And far and away from the law, it felt like Vidigal could easily operate by its own laws.
It was easy to understand now why in some 'shanty towns' and 'barrios' – basically slum villages and otherwise – you'd find whole areas that police did not enter and instead these built-up towns were run by 'local enforcement'
Now it really felt like I was in the 'true Brazil' and that the holiday had stopped.
___________________
"Another Caipirinha!" I wailed as we kept drinking and the night began to settle in.
As we laughed and drank the night away it felt that amongst the dangers of Vidigal we had at least found a spot to unwind.
So it took me by surprise when we were all interrupted by the news of there being cats – or rather a litter of kittens that had been thrown out by their owner.
Suddenly the focussed shifted towards the whispers of mistreatment.
And as a popular Netflix show underlines – don't f*ck with cats!
And then in she was carried.
A scraggly, mangy-looking kitten in a local's hands and dumped precariously on our table.
A picture of Samantha some weeks after in my apartment
Jose stroked her and said 'awww – she probably has fleas but how cute is he/she?'.
The owner of the hostel came over took a look and said 'the owner said it's a she'.
'What will happen to it?'
'Not sure she'll probably become a homeless alley cat and survive on the scraps people give her or garbage'.
By this time, I had her in my hands wrapped around a shawl I'd been given by Lisa.
Holding the kitten for the first time
It was the first time I'd held a cat in my hands before. I'd not grown up in a family with animals other than a hamster I'd kept as a teenager growing up.
But my world changed at that moment.
I felt an outpouring of responsibility that rose within me that I never saw coming. Of course – it may well have been the Caipirinha talking to me.
We went on to feed her from a can of tuna that we found in the hostel – and then that was that.
There was nothing more to do but…..
It still didn't quite sit well with me as I thought about it and at that moment…a thunder of responsibility in my extremely drunken state ran through me.
And so the conversation (if I recall) with the group went something like this:
'I'll take her – I'll adopt her!'
'Wow!'
'Don't be silly you aren't Brazilian!'
'You don't even live in Brazil'
'You've only been in Rio for a week'
'You don't speak Portuguese?!'
'You are staying in a hostel?!'
'And you've never had a cat right?'
As all of the issues came in I felt even more fired up and determined to make this work. Especially as I had the fire of multiple Caipirinha in me to work from.
'Samantha!'
'That's what I'm going to call her.
Why I was going to give her a woman's name I still have no idea to this day – and if you know anything about me you'll know that this has been a pattern with all of the pets I've kept.
But from there it was set.
Samantha and I would navigate Rio together in search of companionship and adventure.
_______________________
There has always been a contrarian part that lives within me that wants to do things simply because they seem difficult and I want to challenge myself.
And in some respects – that was part of the very thrill of being in Vidigal, Rio, to fight Muay Thai, and now – adopt a cat
_______________________
I stared at Samantha as we hurtled down the mountain – in a van this time. As we got out of this vehicle we immediately needed to navigate onto a local bus to get back to the hostel.
And this was where I was to meet a Brazilian software developer who was going to become a firm friend of mine throughout my time in Rio.
As we sat on the bus and were discussing what best was next to do (i.e how in the hell was I going to look after a mangy cat in Rio basically), a man sat diagonally down and across from us couldn't help but notice.
'Hey guys, I have a cat and some cat food if you need some for this evening if you like?'
Already the universe was there to assist us!
Jair had a family of several dogs and cats as it turned out and was living very close to our hostel so as we went back to the hostel he headed off to grab some cat food and come back.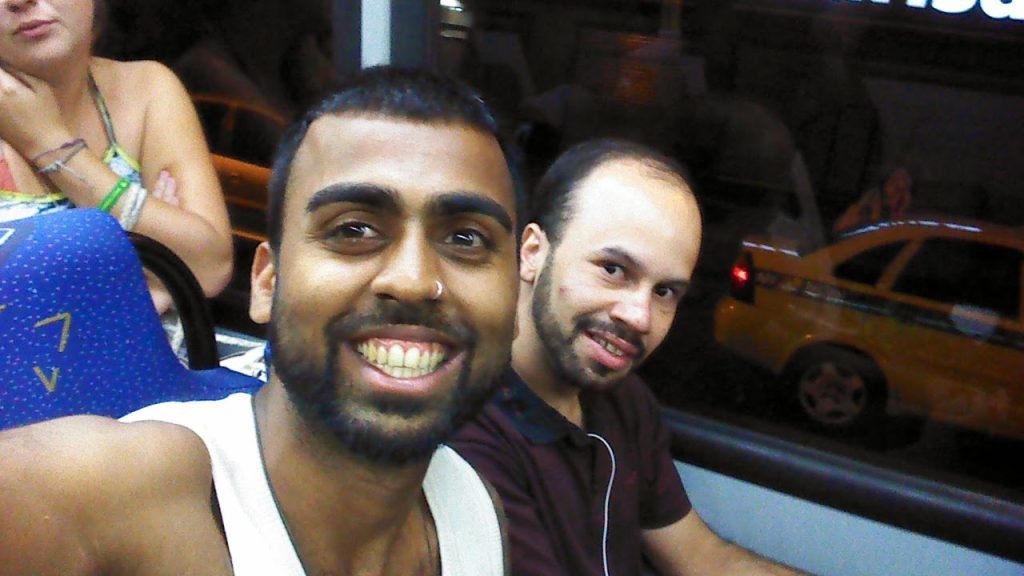 Jair and I sat on the bus the first time we met. We would later become firm friends
It was around 11 pm now and Lisa, Jose, Samantha and I were all staying in the same room.
So we bundled Samantha in our room – and had Jair arrive several minutes later with some cat food.
I ran and grabbed a plate from the kitchen whilst Samantha was in the 6-man dorm room we had with a couple of other guests.
Samantha eating from our dorm room floor
Finally, I would rest my eyes for the night as I lay down and realised that there I lay during the start of the 2014 World Cup in Rio when it was impossible to find accommodation (as I'd tried).
With a kitten called Samantha in my hostel room.
Well.
I can't recall if I had some of these realisations in the night or in the morning when I woke up to discover that the cat food had been eaten and that Samantha had defecated in a separate corner of the room.
'Fuck' I muttered to myself as I awoke with my hangover and a deepened sense of duty.
Now the game was REALLY on. To try to find a place for Samantha and me to call home during the start of my Brazilian adventure with my Brazilian cat.
And as I'll tell you in a later email…what an adventure it was!