Trading £53.2 Million On The Stock Market And Losing £45k In Cash
Reading Time:
8
minutes
Having tried buying an Off-Plan PBSA and a range of alternative investments; I was after something sexier.
The investments I spoke of in my last emails are all relatively passive in that I put money in now and then I need to wait for 2-40 years for them to pay off.
That's all good and well but what I wanted was something that could generate an instant cash flow.
What I had been doing were things that had a payoff a long time away.
They were necessary (maybe…) but boring.
B
O
R
I
N
G
Amyma had already introduced me to a range of alternative investments and Sam my account manager was aware I was after something more liquid.
And this is where having an introducing broker that shows me deals has been pivotal in my 'search' to find the man who'd become my broker; as part of an algorithmic forex trading company.
So basically (for those who don't know) – forex bots trade your money on the currency markets based upon pre-loaded parameters to try to effectively 'buy and sell currencies' to extract a profit.
The markets are open 24 hours a day 5 days a week with the market being closed at the weekends.
It's the largest financial exchange in the world, even bigger than the stock market with there being some $5.1 trillion being moved daily.
Interestingly – trading on this market is technically considered to be 'spread betting in the UK – it's considered to be no different from gambling and therefore any profits made from Forex are tax-free.
Furthermore, you have access to your money on the same day – simply make a withdrawal request and in it comes.
The idea is – is that the bot will consistently beat the market algorithmically to leave you with 2-5% profit PER MONTH.
This is the pretext for the introduction that Sam would make for me to Oli – my future broker
Before Oli would become my great friend and client relationship manager – we would begin with doing a back-and-forth email dance.
13 emails were exchanged over a 3-week period as I refused to get on the phone and aimed to do all my due diligence over email: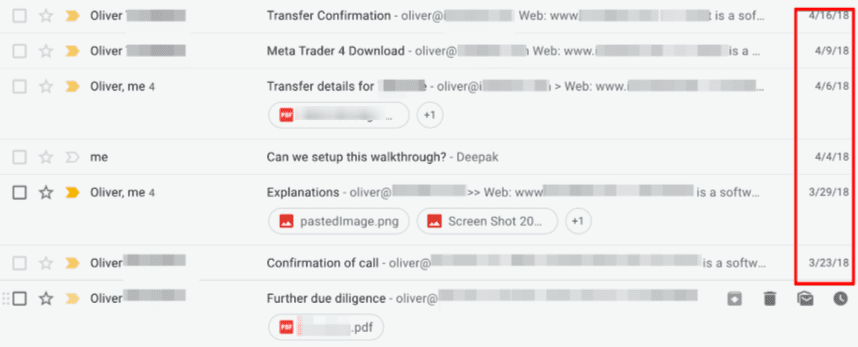 Things soon came to a head as Oli likely felt I would be an absolute pain to work with and was maybe giving him the run-around.
(Please note – when putting my money into something I definitely am a pain in the arse)
I imagine he kept up with me as Sam had mentioned I had around £40,000 invested with recommendations Amyma made
But enough was enough from Oli's perspective. I wasn't 100% satisfied with his answers, but equally, I'd not gotten on the phone with him.
And so my soon-to-be forex trader sent a 'maybe this isn't for your email

With the minimum investment being 10k; and my capital being a risk I was being cautious.
But knowing that the deal was being taken off the table coupled with the reality that I wasn't terribly excited about the other deals I had anyway – my mind was made up.
I'd do it!
After managing to harangue Oli into allowing me to invest £10k – which likely only happened because of the other investments I secured through Amyma which underlined I had money to spend – and them being partners – off we went.
And so I watched.
And I waited.
Ultimately – algorithmic trading has proven to be an incredible investment
In the last 18 months, in total, I made over £100k. Passively. No work, no taxes, just returns.
IF YOU WANT AN INTRODUCTION TO OLIVER JUST EMAIL ME
Think about that
I have continued to focus on growing my agency, my investment portfolio, and being financially secure enough to ultimately put down £70k cash into my first BTL property – all without 'working' on my forex account.
It's given me a very secure base (emotionally) from which to take further risks in my day job AS WELL…as writing blogs like this.
So – here are my audited numbers:
My net profit was 98k more or less as of the 30th December 2019, with a total balance of £266k under management.
I started off with a 5k balance and slowly built up the £266k over time – so my returns are incredible given I only had this balance in Dec of 2019.
Furthermore – much of your returns depend upon the kind of investor you are. If you get classified as a professional investor then you are put on leverage of 200:1. So that means for every 1p you have on the FX market…
You're actually trading in a 200 penny or £2 trade!
So as I got to £266k on the FX market – it meant in total I was actually trading £53.2 million in real currency.
Wow….
It is still absolutely incredible to conceive of myself being involved in trades of that size.
There have been months when I've made £13k+ (more take-home than my agency given it's tax-free) and days I've made £3.2k.
Now; anytime any of my businesses generate some positive cash flow (and we take payments at the start of campaigns, not at the end) – I'll put all the money into my Forex trading account.
(Please note this is risky so 'copy' at your own risk – I take such gambles ultimately reliant upon my own ability to generate more income)
So if I owe £20k in end-of-year taxes and it's not due for several months – I'll give that to my Forex trader as I know he can add £400-1k a month in profit to that balance.
This has proven to be a great strategy to generate profit from income I'd otherwise have sitting in my bank account doing nothing,
Now given I can lose my capital (and I have – I lost 35k in one day once); many would consider this to be dangerous.
It is and it isn't.
Because – I have 18 months of positive trading data.
Data that demonstrates after everything is said and done – I've been making money on this investment.
Recently – I had to present £65k in my limited property company account for a buy-to-let mortgage (more on this in later emails). And so I did the following:
Moved the 65k out of Forex into my Pearl Lemon company account (the account of origin from where my Forex capital came from): 5-minute task (I sent an email)
Moved the money from my Pearl Lemon company account to Deepak Shukla Properties Limited (the property company) – 20-30 min task (in the bank/over the phone)
Presented the balance to my mortgage lender: 5 min task (emailing the statement)
Moved the money from Deepak Shukla Properties Limited to Pearl Lemon Limited to my Forex Broker: 30-45 min task (over the phone/in the bank)
Total time is taken – 85 – 110 minutes (< 2 hours)
The part that involved me moving the money BACK again to Forex took me 30 mins (I'm excluding those other parts, as I needed to do them for the mortgage).
I'm saying this because those 2 hours ultimately gave me an additional £2k as I kept my money in Forex AND was able to demonstrate funds on account to my mortgage lender
So as you can see- there are countless ways I'm leveraging the income Forex generates for me.
Actually, I'm currently applying for 5 mortgages at the same time (again more on this later) – one has been accepted already and I believe the other four will follow in a month.
The total cost of doing this is around £150k-200k.
But I'm only moving money into the appropriate accounts at the 11th hour.
My estate agent has been frustrated by this, but then learned over the 2-months of waiting I made around £17.5k (totally – I assume upon the £65k I've made around £2k)
So this is the riskiest but strongest income source I have and the one I'm most thankful for – it's amazing getting daily texts from my broker Oliver saying '£697 all banked and flat' or '£1012 all banked and flat'; alongside the 'no trades executed today' or '£24′ today'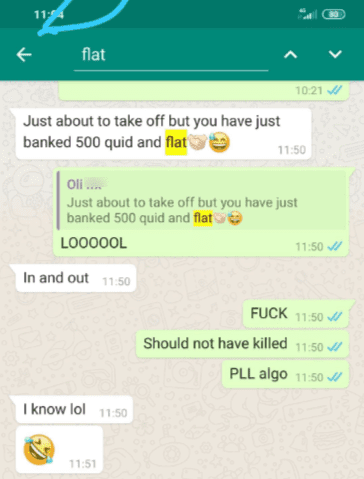 I naturally (like I am now) tell my friends about the income I'm generating and several people have signed up (and returned decent income from it like myself).
So last month I was able to bank £521 in referral income as I take a tiny % of all of their trades and everyone is still making money.
Here's a screenshot from the MT4 app where I log in to check my daily returns (on my rebates – I uninstalled it for my regular accounts as I found it too distracting)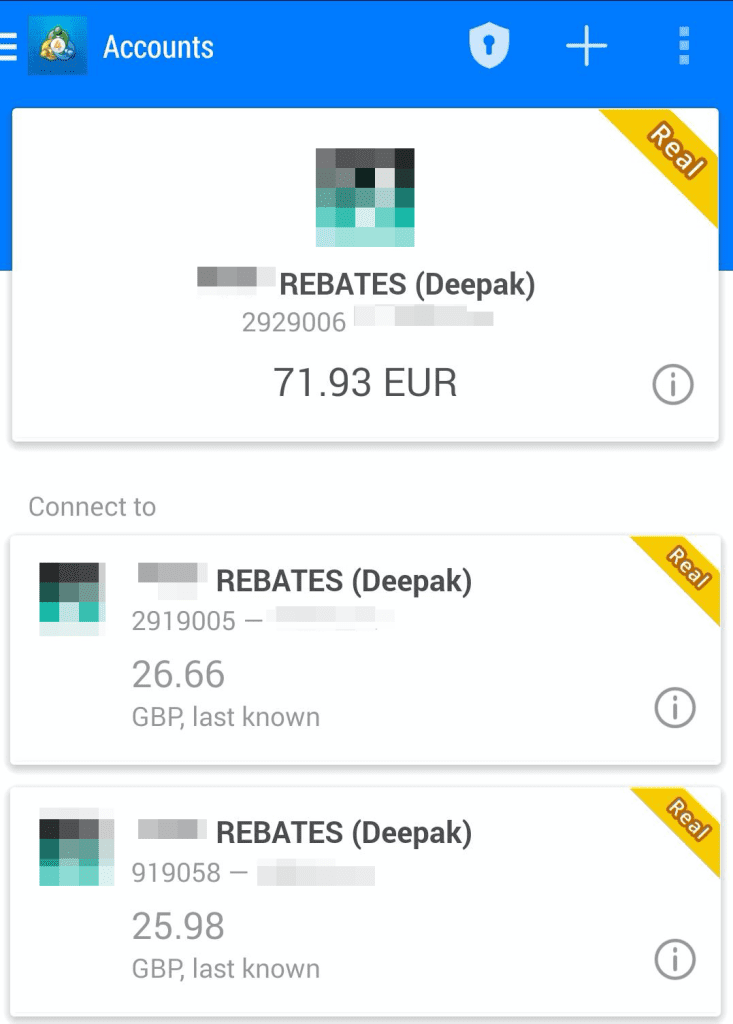 I have a personal aim to get my rebates to £2k a month through the introductions I make in Q1 of 2020.
Currently – I'm at around 100k in EUR, and 140k in GBP – I'd like to get this up to £1 million in time which would raise my rebates to £10k+ a month. As I meet more and more people through the business I believe this is totally achievable.
So again – think about that
For every introduction I make whereby someone invests – I'm able to generate a passive income as I take a tiny % of every winning trade.
This time I'm not even putting any money in to leverage such a return. It's simply those who invest as a consequence of my recommendation – and then together we start generating an income for which I'll receive automatic monthly payouts.
This is passive income x2 🙂
____________________
Now – it hasn't ALL been sunshine and rainbows –
As you noticed from the title – I have also lost a significant amount of money in the market.
10k was with another forex company and with this company I lost the total balance (they're now being investigated I believe by the FCA) I had with them.
Furthermore:
I've also lost 30k with my current broker Oli
Another friend also lost 17k (his total balance) and
Another friend lost maybe 1.5k before he pulled out.
I'm telling you this because it's important I don't present a 'one-sided' account of this investment strategy.
It definitely comes with risk.
But with this strategy, it's important to take a long-term 'month-on-month' view of it.
I'm still up by six figures in 18 months even with these losses.
And even on the day, I lost that 35k with Oli – I remember being in Kew Gardens with my partner Daniela when I got the call…
I (after absolutely shitting my pants) remained calm and trusted in the truth.
I was still £50k+ up at this point and walking away (this had been my first loss of more than £1k) at that point made no sense.
So on I continued and 4-months later my broker had made all my money back – and so the journey continues.
I'll always keep some of my money invested in Forex always now I believe – and then use the funds it generates to put into a stable investment vehicle such as property (at least for now).
Another investment I want to walk you through is this newsletter.
Yes – this newsletter is both a property (the intellectual type) and a web property (via the landing page) and I'll walk you through how exactly I intend to monetize it in the next email.
It's going to make me £100k+ passively
In the next email, I'll show you how.