Building A (6 Figure?) Sales Organisation From Scratch
Reading Time:
6
minutes
Hey guys,
Today I want to talk about how I'm building a profitable sales organization from scratch that will only continue to grow over the coming years.
I've discussed in previous posts along my journey about my basic approach to building a new service organisation is to:
Identify a niche I enjoy (sales)
Build a website around said niche (www.pearllemonsales.com)
Rank it on Google
Wait for it to start generating leads
That's pretty much the approach I now take with trying to build any type of business that I want to try and build over time.
Here are our 3-month on 3-month rankings:
This is going slower than I would like but gives you some sense of what the plan is.
(In fact, I've just pinged one of my team to see if we can speed up the link-building process ha)
On another buying keyword we are doing ok (we rank #1 organically):
And then when you jump into SEMRush and take a further look:
You'll see that the global search volume is 290/the UK search volume is 10.
This keyword has generated us:
Client 1 – £500
Client 2 – £2,000
Client 3 – £2,000
Client 4 – £5,000
Total revenue to date: £9.5k
Cost to rank for this keyword: £1,500 (in time spent)
Projected returns (as our skills increase and other keyword rankings increase): £100k+
So.
This model I've just laid out gives you an insight into how I'm growing the Pearl Lemon Brand in general as an asset whose value will only increase over time.
So the above is how I've built the actual inbound process. In combination with this we also rank very well for lead generation-related keywords (which helps us cross-sell as they're very related services):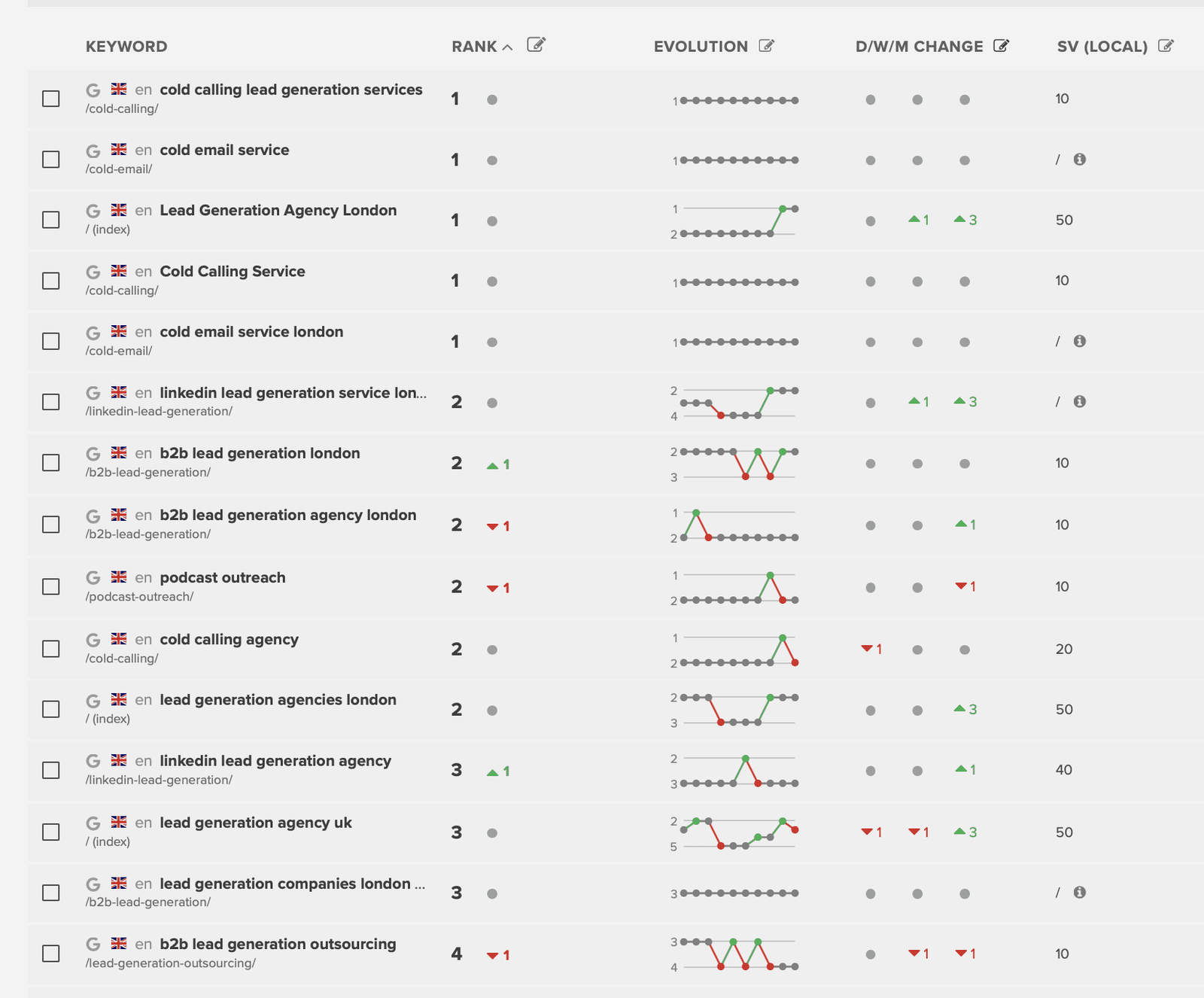 (Naturally, this is again something that we're working on to only increase and grow over time)
Let's now walk through the steps that happened once Ion (our head of sales) closed our first deal for cold calling – with an Italian finance company headed up by the colourful Maurizio.
We have a model whereby we take the money at the start of the campaign (which Ion is excellent at) – and then I have around a week to put everything together.
I will say that previous to this I had had a decent amount of experience actually hiring cold callers.
For Keystone Insurance (a former client) around 2 years ago I'd found a South African cold caller who'd been making calls to plumbers to try and close insurance deals for them. After that alongside my former business partner, we'd hired Philipino cold callers to book appointments for Gladfish (another former client).
Then after this, I'd hired John Faye, a plucky Irishman who'd spend a week cold calling for 1morerep (a former business I'd got involved in with a buddy of mine).
None of this is to include the dozen + interviews I'd had with commission-only callers for Pearl Lemon itself and having worked with Ion, Joe, Mikala, Micheal, Chris and others.
This all fed into actually offering this as a formal service. So whilst I might come across as blase in respect of 'throwing a website together' it's not actually the case – as I'd already hired around 10 sales professionals by then, and had interviewed around 25.
However, now I was approaching it as an actual business owner who was delivering a service – so my whole mindset changed – and these were the very next steps:
Put up an ad for a 'cold caller' on People Per Hour with a £20 per hour ticket
Wait for 10+ applicants to roll in
Ask everybody to contact me via Whatsapp
Filter through the applicants to determine who was the best fit
Identify candidate 1 whom I was paying £22 per hour
Ask more about her process (to learn how to run Pearl Lemon Sales in general – because she had clients of her own)
Launch a campaign with her involvement
Learn from her management, and build processes around that
Keep her and continue the campaign until I could find someone cheaper still
Ultimately find someone £10 per hour cheaper with comparable skills
I guess this is the 80/20 – the high-level steps that generated the most returns – and there are many many minor steps in between – but this should give you a pretty good roadmap.
This business was one that I decided to start on a whim because my head of sales told me how much he loved the idea of being part of a sales organization that was dedicated to the art of selling.
Ion has been in cold calling for 14+ years before he got involved in Pearl Lemon and given how successful he is and continues to be – I thought it would be pretty fun to start a new company based around his passion of sales – alongside my enjoyment of closing deals as well.
And so hey presto –
Pearl Lemon Sales.
It's exciting to envision where the business will be in 6 months from now. Right now the focus really is on building out the business from an inbound perspective.
It's the type of business that I am happy to take the business if it comes in – but won't necessarily go after it.
(Interestingly enough Mark Cuban says in The Sport of Business – 'if you don't love it and wouldn't do it for free – don't even start it' – and I see that's a principle I disagree with and my version would be – if it can work without much involvement from you – and can name your money – why not?')
I guess that's the reality of inbound marketing. It means I can start new sites and try things without giving it too much thought. Which can be good and bad of course.
Lack of focus and all that.
But – we're a little bit spoiled as a company to that extent.
We bought in 83 leads over the last 14 days and hopefully will get to a stage where we'll be bringing in 200 leads a month from inbound marketing.
Inbound is something we're all gunning to drive more and more internally.
But anyway – back to Pearl Lemon Sales.
Since we've had clients come in – it's been a dizzying series of 'learning on the job'.
From setting up salesmate.io, and crazycall.io (sales crms with power dialers, the opportunity to record all calls) to identifying an Egyptian 21 year old – Adham – who I think has all of the makings of someone who can absolutely run this company, to reporting templates, call recordings, contentious client issues and more
Also – since then we've taken on a particular client – Allservicesforyou – and I've had the pleasure of meeting someone else who's running his own sales organisation – Max Newton – and we've developed a solid friendship.
Through him I'm getting to understand the sales world some more – and that's important in getting more and more engrossed in this world.
I've since signed up to Jolt as a trainer as well as signed up to Bark to generate leads – both of which are proving to be potentially profitable.
This model – by the way – is definitely repeatable (the inbound method described over).
Building a website, identifying target keywords and then subsequently going after those keywords whilst you have your main business sustain you.
In my case that would be www.pearllemon.com – our main brand – and of course, Pearl Lemon Sales is intimately connected to this brand as well – so the opportunity of cross-selling comes in.
This in a combination with taking advantage of all the requests that clients make of you to further build out your operations means you can have a set of clients who are really happy with your service even if you're new.
The key is – to work hard and learn fast operationally so you can keep getting better and better.
It's all excellent data, and an excellent opportunity to learn how to run your business more effectively.
So if we now take a look at some of the keywords I wish to rank over time – we get a sense of where this could possibly go: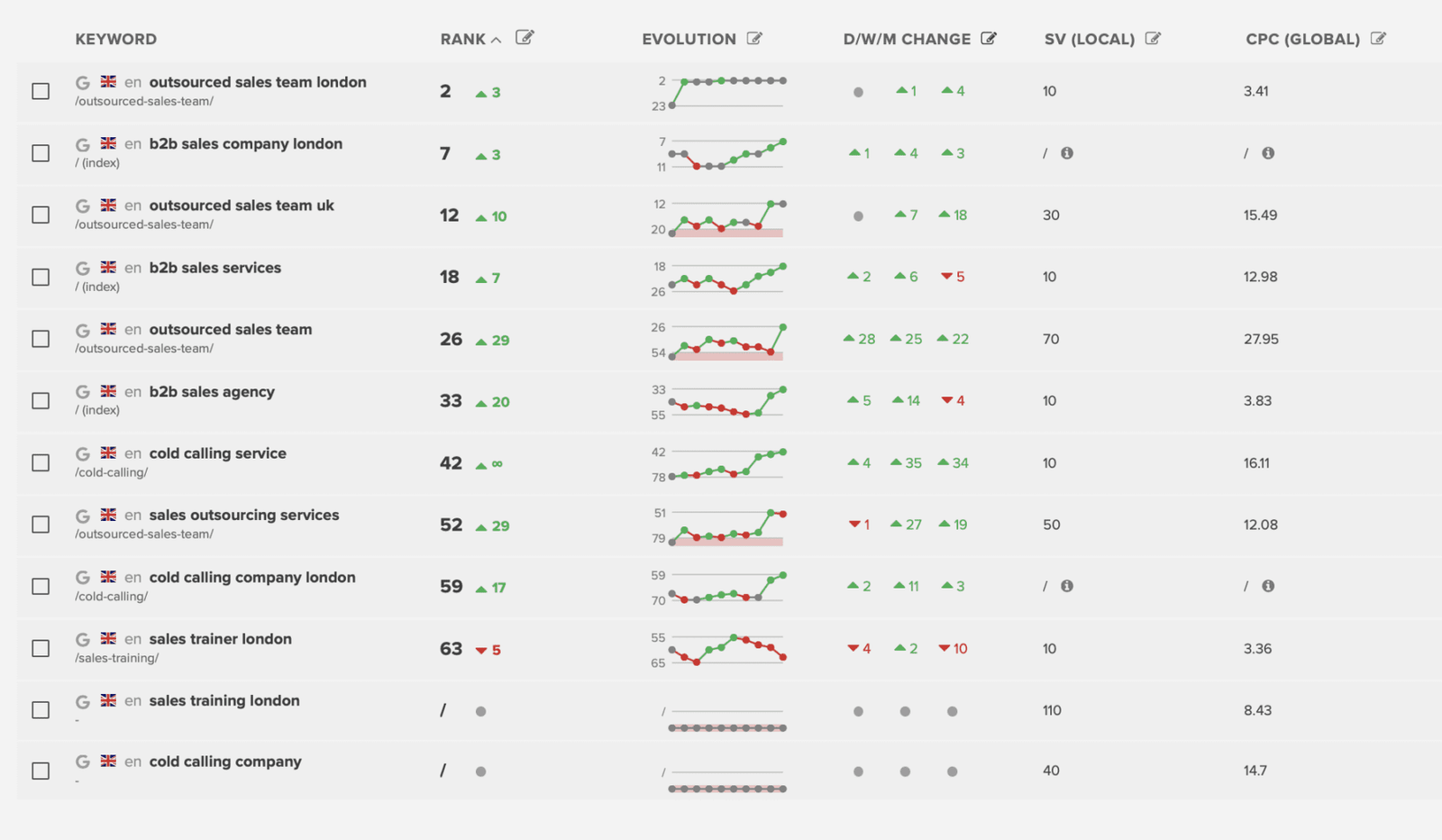 These are our current rankings and whilst the local search volumes in the UK are low – once we achieve top 3 rankings for all of these keywords it'll definitely lead to paying work.
We've already seen several deals come in – and this will only continue to happen as we develop our inbound rankings over time.
So we're at around 10k now in terms of revenue and have another 90k to go to make it around 6 figures.
I'm looking forward to seeing what the future brings in this regard. 🙂
I'll keep you posted.