The Story of Pearl Lemon and How It All Started
Reading Time:
27
minutes
Hey guys,
I had a call with Udit Goenka, founder at Pitchground on Friday,
And he mentioned this as being amongst my to-do list – and said until these were done – no point in us having another meeting.
Here's the time right now:
Talk about being a hard taskmaster – but ultimately it's for my benefit as this is what I guess is needed to drive things forward for me.
And what a good subject he picked for me to write about.
I haven't got it written anywhere – the story of Pearl Lemon and how it got started so I thought I'd begin here.
I'm not sure how long this is going to end up being but strap in – the story starts here.
____________________
I was sitting in Amsterdam, in my bedroom in a shared house for my 30th birthday – August 18th 2016.
I was alone, by myself, and crying heavy tears.
Turning 30 had been a huge disappointment for me.
I had achieved no pinnacle of success, had nothing proper to show for myself, and some of the things I'd tried during my 20s to achieve some portion of success hadn't quite worked out.
I'd applied to the Special Forces, and withdrew several months in – realising I wasn't up to the task or even interested enough in making the sacrifice to achieve at the highest military level.
I'd run ultramarathons, competed in Ironman, fought Muay Thai and attempted to launch several businesses without any great success and there I was.
Money had almost totally disappeared, and I had chosen to be alone in Amsterdam for my 30th birthday.
And I still struggled to be without Strawberry, the woman I'd chased since I'd first met her in October 2011, and someone who at that time I was no longer in a relationship with.
One solid thing came from the tears though, as one of my few friends Puck – a Dutch doctor – chose to surprise me with a birthday cake as she knew I was sat there alone for my 30th birthday.
That it was time to head home. And time to wipe the slate clean and start again.
___________________
As I turned up at Heathrow, one of the other things I decided I'd wanted, having adopted 2 cats whilst I was abroad – was a cat.
I didn't really know much about the formal process of finding/buying a cat and raising one, but I knew that I wanted one having had two cats who I looked after in both Brazil and Holland.
That idea would turn into finding Tommy and Jenny – and actually Jenny – now entering her 5th year is sat across from me sleeping:
It's funny looking back at that moment and seeing what it has produced.
____________
Marketing, in terms of starting afresh seemed to be a good space for me to begin my journey anew.
I reached out to some old friends and told them of my plans and thought in my first iteration I would get started by myself.
This began with building a Digital Presence with a friend of mine Ross Derrick. That involved setting up a landing page with Leadpages and then beginning the prospecting process.
I actually ended up getting a train to Brighton to go and see a potential prospect and remember Ross (who lived in Brighton) not even turning up for the meeting.
Ultimately at the time I was looking to build a business from scratch was going through some personal issues and so our paths (at least in business) parted ways.
I then turned to Kukumber.co – a name I found to be available and loved.
This time I'd set out by myself and begun making a website and building a series of explainer videos about each social media platform using Biteable, a script I wrote out, and then pushing out content.
This felt like it could go somewhere and I began syndicating the videos content using a cool video sharing tool I'd found.
I didn't think about the fact that I didn't currently house any of this content on my website but the videos – which all had descriptions (because it was taken from the scripts) was actually all duplicated content that went out en masse.
Soon enough I was Google slapped and my website was delisted from Google, and no matter what search variation I tried I couldn't find it anywhere.
At that time, it was my first real experience with an SEO issue that I didn't even appreciate existed.
And so ultimately whilst Katherine, another friend of mine whom I discussed building a business with started designing a new website for us to build a company together…
I also went into the city to see my old university friend Nick Ellison.
At that time he was growing Purr Digital, his software company, and knew that I was interested in starting a marketing agency.
Ultimately, after a couple of meetings, we would go on to form Purr Traffic together – the sister brand to Purr Digital, and this is where my digital marketing journey truly began.
The company (and you can still look it up) was registered in October 2016. Between my birthday in August and Nick and I registering the business a couple of months later – all of that above had happened.
And so began, over the next 6-months, my era of deep learning.
______________
However, Nick, who was already running a successful six-figure business – hadn't decided to build a business with me naively.
My experience with marketing went all the way back to 2012.
I'd first inadvertently stumbled upon the world of SEO when running the 'Gumtree Game' as I've now dubbed it – which actually helped me build a high 5-figure business in the years before Purr Traffic ever came into being.
Let's get into it –
I'd been trying to launch Studiobookers – literally a studiobooking platform that would connect musicians with recording studios. It was a problem I'd personally encountered when I was a musician myself.
Finding recording studios to go and record at was not a straightforward exercise and so I'd decided to build a platform for this which was a much bigger undertaking than I had ever imagined.
As this was being built however, I needed to make money, and my days of running a recording studio (Deep Impakt Recordings) had come to an end.
Upon the suggestion of Pei, one of the interns at Studiobookers – I looked into the world of becoming an English tutor.
After all, that was my major, and I wasn't a half bad teacher.
And so, I posted my first ad on gumtree.
I put up and advert as an English tutor, alongside applying to several tutoring agencies as a tutor myself.
I was pleasantly surprised to discover that whilst I did pick up a job or two through the agencies – I picked up several more through gumtree.
This was when I began honing in more upon Gumtree as a platform.
Now what I intimately understand now was something I didn't consciously appreciate then – that this platform much like any other – had some algorithms or programmatic logic it worked by to determine the most relevant listing to display based upon the content of the listing.
Gumtree is a classified ads site designed for local people and local businesses to exchange goods, services and more together.
So I'd put up a listing as an English tutor based in West Drayton as I was living with my parents at that time.
Optimizing My Copy (Optimizing for Clicks)
Now I'd never posted an ad for a competitive service before on Gumtree. Previous to posting as a tutor, I'd put ads up looking for interns and that had provided me with a great grounding in understanding how to write copy.
Ultimately it was sales copywriting that I was engaged in.
I needed to write an attractive enough advert that would engender trust, demonstrate my skills and drive people towards making a booking.
This was something that I intuitively understood.
Incidentally – it would be my years backpacking that helped me here in understanding what was important to make a solid first impression.
From a smiling picture, to name dropping my educational history, work experience as well as a little about my personal life, I recognised I'd done a fairly good job of making a solid listing.
And so with a £6.99 spend – I was able to launch my first listing as an English tutor off into the stratosphere.
Adjusting My Listing (Geo-location)
However, realising that there might not be many affluent people in my immediate area I quickly changed the listing to a little further into London. More specifically to areas I was willing to travel and worked in outside of just where I lived.
I picked the Kensington and Chelsea area as it wasn't too terrible for me to travel to from West Drayton.
And this led to my first uptick in success upon the platform.
Gumtree allowed you to set your own location so people based in that area were more likely to see my ad than those outside of a certain catchment that Gumtree defined.
This was my first tweak to see what return it would levy.
I saw a slight increase in calls immediately.
Once I saw this happen the game was on.
Pay To Play
I'd see an immediate drop off in calls as a few days would go by and my listing would be replaced by newer listings being posted.
This was no surprise given I was competing in London – the busiest market in the UK.
I noticed during my examination – that you could pay again to boost the listing – which was the same price at that time – £6.99.
You could also pay for other smaller add ons such as £1.99 to include a link in your listing as well as something like another £3.99 to add a video.
I wasn't interested in paying for any of it because I felt my ad alone was strong enough.
Visibility was my problem I felt – not conversion.
And so the first time I paid to boost my listing back to the top of the listings minus the 1 or 2 people paying for featured spots which cost around £29,99…
I saw again an increase in calls
Keyword Usage
As more calls came in, and I began to bring in more and more work, my fascination with dominating these listings grew.
'Well that's English – what else could you teach Deepak?!'
'I reckon you could do psychology as well – you got an A in that at A-Level!'.
I was applying to help tutor English originally, so it had seemed fairly logical to use the word English in the title.
As the first couple of calls came in, it would lead me back to my listing more and more to take a look at it – to see if there was anything else I could do further to improve it.
The next element I noticed was that the more keywords I'd add into the title, the more searches I would appear in.
Thinking back to my Psychology idea, I'd debated with the idea of introducing a 2nd advert but at that moment didn't fancy paying twice and so I thought I'd add Psychology to this advert as well.
As I added the word Psychology to the title – I saw an immediate increase in my visibility on Gumtree – as I noticed I began to appear in the much less competitive (but active) psychology niche!
As I ran checks once logged out and on different browsers for phrases such as 'psychology tutor' and 'english tutor' – I saw my ad appear more and more.
Success!
And that was what it truly turned into as one of the more successful students I would teach over the years (Parum) I taught psychology to – and he would go on to get several A grades at GCSE as well as A-Level – and little did I know I was to be with him throughout that journey.
Keyword Optimization and Keyword Stuffing
As I explored gumtree more, I noticed you could insert keywords that were searchable not only in the titles, but the description as well.
Quickly, at the bottom of my ads, I would also include as many keywords as I could such as 'English teacher, English tutor, English literature teacher, English literature private tutor' – all to try and capture as many keyword combinations as I could.
Again it worked as I could see my call volume go up a little again
Competitive Research
It was with this knowledge that I began to dig deeper into the adverts of my competition.
My competition was really only the same set of 3-5 adverts/companies and people who seemed to dominate the top slots of the listings.
I would open up each of them one by one, and make a quick mental note of what worked and what I didn't think was effective.
Quickly I began to tweak more and more elements of my listing:
I added several pictures of myself smiling, including my graduation, and tutoring both an adult as well as a teenager.
I then decided I'd pay for adding a link in and put in my Tedx speech to demonstrate my expertise and trustworthiness
At the top of the advert I began adding my phone number – as the opening statement for those who just wanted to call me immediately
I'd also put my pricing at the top initially so prospects were aware of the price, but then I quickly removed it as I realised it was the price sensitive who used that as a deciding factor – whereas without it – I'd get the richer students
There are probably other tweaks that I forget now that came from observing my competitors but this analysis definitely took my ads even further.
Sending Trust Signals
One of the interesting observations was some adverts chose not to include clear pictures (or any pictures) of themselves and contained pictures that were clearly just taken from Google image search.
I looked at these listings and thought – if I was a student searching for a tutor for the first time – would this be an advert I'd trust more than one where I could see the face of the actual tutor?
The answer here was obvious.
Then I'd add a picture and would notice that whilst the picture would look good enough when I was actually on my listing, it wouldn't look quite as clear when looking at my advert within a listing search.
With this I optimised my picture further by blowing it up so my smile would effectively still appear prominently in search.
This I knew would help me achieve a higher click through rate.
Multi Location Listings
As the enquiries grew, I thought – hang on – I can turn this into a business
With this – I noticed 1 or 2 of my competitors – specifically the companies – were listing in other cities.
It was when also searching in Birmingham to see what was happening there – that I noticed pretty much exactly the same advert appearing that lightbulbs started going off.
I quickly examined the ad and realised it was basically the same company in London with all of the same details.
Presumably because they had a location in Birmingham, and so were listing there – as Gumtree was meant for local adverts. However it also seemed to be the case that you could list anywhere by simply changing the postcode when setting up your advert and that Gumtree required no additional verification. The more leads that came in, the more I was willing to travel to individuals needing help.
With this I immediately posted in Birmingham with an identical advert to see what would happen.
I saw within 3 days another bump in calls and decided I would push further still, putting ads in Manchester, Cardiff and Leeds as well.
Identical ads.
Within a week, all of my adverts had been removed – and I realised that Gumtree had caught onto my call-generating game. I had to find a better way to generate sustainable leads.
In this period I grew out 'Gobsmackers' into a good small business.
The calls were coming in and I soon transitioned from doing the work myself to finding tutors – other university students from good solid London universities effectively who could help some of these folks on gumtree.
There was an accounting tutor and psychology tutor that I particularly sent a lot of work over a few months.
My ex-Deloitte background was attractive to accounting students and I soon added 'accounting tuition' into the mix of my ads alongside English and Psychology to speed up my gumtree journey.
The Ban
My heady heights upon the platform as I began to focus exclusively upon Gumtree as my main marketing channel and I'd have 3-5 ads up at any one time would ultimately come to an end as Gumtree became wise to my game.
It had been a game of cat and mouse as I'd have listings removed, immediately setup a new advert, have an old one removed and then setup a new account and start again over there.
Then I would begin posting from my partner's computer to change my Mac ID. Then I'd share screens with my cousin and ask him to post for me to get around it again.
Of course I couldn't (well I tried but it wasn't half as effective) stop using my name and photo and all without sacrificing the number of calls.
I then moved into creating persona's who would look like ideal tutors on Gumtree and use these ads to generate calls and have my brother and sister-in-law taking calls for me as I continued to expand the business. The desire to grow turned into a slightly dark path that since then I have stayed far away from in terms of best practices.
It was incredible that at one point I had a £9,300 month as my repeat business and scope of clients continued to grow.
Alas ultimately, I'd realise along the way that building a tutoring agency (as it morphed into) wasn't particularly a dream of mine – so this agency once I had £27,000 in the bank came to an end. I also came to realise that this was not in "best practice" and I wanted to find a better way and more sustainable way to achieve results in business.
And then my travels began.
____________
Getting into entrepreneurship was something I think that I 'discovered' when I started working at Deloitte.
Coming out of university in 2008 during the 'credit crunch' I didn't think too much about building a business.
In fact the concept was alien to me, and with a job offer at a prestigious company at their main offices in London in hand as an English literature graduate – it seemed a no brainer to pursue life as a tax consultant.
That idea came quickly crashing down when I got into work and realised that well, it was majorly boring, I was uninterested in Tax and it wasn't something I could do half heartedly.
There were those who were there that wanted it badder, trained for it more, would outwork for, and had the analytical mind for it.
The only way I'd managed to get into Deloitte in the first place was a buddy helped me with my numerical reasoning tests and then verbally I was pretty good.
So when it came to interviews I had the ability to ultimately talk a believable game.
And I had another clear passion, even though I didn't know that ultimately THAT was how I would get my first taste of business.
That passion was music, and specifically Mc'ing.
And in combination with having supportive parents – it was a leap I made.
A Brief Interlude
It was at 18 when my parents saw me reject my university applications in pursuit of a year 'off' to reapply to Oxbridge and then ultimately go to Warwick that I think they saw…perhaps even before I did
That I was my own man.
Post-A Levels I took the year off, reapplied, and worked two jobs at Odeon Cinema and Natwest bank in a bid to save as much money (£6,000) as I could to go backpacking.
And backpacking I did for 6 months around the world alone and then came back and recorded my first official solo mix cd before heading off to university.
I think in hindsight it was at this point, that my parents figured if I said I was going to do something – I would do it and therefore upon leaving Deloitte and me telling them >
"I'm going to start a recording studio and use it to sell sound engineering services as well as record my own music" well, they believed me.
And as time would tell, that's exactly what I did.
Launching Purr Traffic in October 2016
These were the thoughts that flashed through my mind as I sat opposite Nick in a pub near Trafalgar Square and spoke to him whilst being interviewed by his business coach.
The feeling was right, the mood was right and it was here that our journey would begin.
And so we agreed that I'd work from Nick's office at no cost a couple of days per week, whilst Nick would work to build out the website.
The early days are always exciting.
I loved the idea of having a business partner who had employees, a solid track record in business, whom had sold his last company Choose a Challenge, was a good old friend and had built my previous website for both my companies –
Deep Impakt Recordings as well as Studiobookers.
With his support on processes, technical setup and accounting as well as his network of existing clients – it was then for me to go ahead and build out the brand, the services and figure out the rest along the way.
And so we circle back to a comment I made a few thousands words back:
As well as the practical aspects of putting a business together which involved registering the company, getting business cards, meeting Nick's team, having meetings with potential partners in his office building – there was the 'art of marketing' to study more deeply.
I'd dabbled in training videos here and there but had never taken any solid time to sit down and actually start going through some training.
So in parallel with getting the business setup and my nerves rising – I took it upon myself to start teaching myself as much as I could about internet marketing.
What followed were Udemy courses, YouTube videos, reading blog posts, paying for some premium courses and generally beginning to get more well versed in what it actually meant to be a digital marketer.
This was a period of great learning for me, both theoretically and experientially as I began to get more and more acquainted with marketing from Reddit to Amazon FBA to conversion copywriting to of course – SEO.
And this was where I found my convergence of interest with SEO seeming to blend content, email outreach, and technical insights into putting together ultimately a website that would rank well on Google.
I didn't appreciate back in late October 2016 how deep SEO goes.
Here I am writing this blog more than 4 years later and still I feel like I'm just scratching the surface of what's possible as I get more and more training from SEOs who know much more than myself such as Paul Lovell and Craig Campbell
The Demise Of Purr Traffic
So months passed and it became apparent that Nick and I had quite drastically different ways of working – which in time I would really grow to appreciate.
At that time however I was too young in business to understand why it was difficult to contact Nick outside of office hours, why at weekends he was busy doing other things.
Of course, Nick had his own agency to deal with alongside living with his partner. At this time I had zero responsibilities, was living back with my parents and my partner Strawberry (we had since got back together was living in Italy – so I was mostly by myself)
Furthermore Nick was precise, methodological, had an agency that prided itself on being inhouse, serving clients in London and regularly had face to face meetings with clients as well as prospects.
On the other hand, I was a digital nomad and had grown used to working remotely, using online tools and generally being quite a bit more informal in my messaging style.
Nick and I were opposites in our approach, and the cracks between us working styles and how his clients perceived me began to show in business.
With all of that being said, the journey of learning how to be both a digital marketer and an agency owner continued unabated.
Whilst we were waiting on some of the bigger deals to be successful vis a vis introductions to Nick's network – I had the idea of getting myself setup on Upwork to start generating a little bit of revenue at least to begin with
And so that would be the beginning of the online journey I would begin into working with people all around the world.
Deals such as email copywriting, building landing pages and the like began to trickle in. What I perfected sooner than my digital marketing skills were probably my communication skills.
So as the deals came I would learn as quickly and aggressively as I could in a bid to try and deliver great work.
And it was through Upwork that I really began to start seeing some traction independent of Nick's network.
The truth was, was that neither Nick nor I had a sense of timeline and readiness of his network to broker marketing deals.
Furthermore out pitch was also broad and not focussed upon a segment enough.
I still remember the days of going to various meetings across London without a strict sense of knowing what it was I was going to sell.
But again – the digital learning continued.
Parting Ways
Ultimately, after around 7 months it became clear that as business partners – Nick and I were a poor fit.
He was doing very well with his software agency and naturally it meant he had limited time he could give to growing Purr Traffic.
Amicably we decided to part ways in April, and so I would continue Purr Traffic alone.
The learning continued, and courses to understand more of WordPress SEO came and went, I got to know 'Brian Dean' and more of his content alongside Search Engine Journal, SEMRUsh, Moz, Ahrefs and all of these other names that seemed intimately related to the SEO world.
The penny however, didn't drop until one fateful day in August of 2017.
My proficiency on some platforms versus others began to grow.
Upwork jobs had started to come in a little more often as I began to perfect my outreach script. I was beginning to see some traction from cold email and on LinkedIn I had begun to see virality as well as I wrote a few posts that started to get millions of views.
Quora had also become a big playground for me as I rose in prominence upon the platform as I soared past the 10 million views mark.
And then I happened to meet a prospect in the wholesale supplies market on Upwork who was looking for lead generation.
At this time my main focus was lead generation as it was here I displayed the most natural talent.
My connection with what I was good at and what the website said we offered felt pretty separate.
Archive.org hasn't really captured an accurate picture of the website but does give you some sense of some of the elements of the homepage.
My First Ever SEO Client
'Now Deepak I understand that SEO is a long term process, and that I need 6-months to see a result – I just want to make sure that YOU'RE the right person for this job'.
I'd never expected to hear this on a call.
I was walking into the conversation to discuss 'lead generation' – which was how I advertised myself on Upwork – and wasn't really sure how I could help an eCommerce business owner – but maybe it was email marketing I figured.
Just like I'd helped somebody else
Actually, it turned out that George wanted support with search engine optimisation – something I'd never delivered commercially to a client before.
But I was ambitious, cared about doing great work and knew immediately that I was willing to try.
After several back and forths – George and I would end up going into business, and my SEO journey with his business would start.
In hindsight, I couldn't have picked a more complex project to begin with. I just didn't know this at the time.
He had two websites – one on WordPress with Woocommerce and over 10,000 products listed. The second website was on Zen Cart – an archaic eCommerce platform that not many developers were used to working with – and this site had even MORE products.
With both b2b and b2c customers for website 1, and b2c only customers for website 2, it was a challenge to behold.
Of course I didn't appreciate any of this – for me it was simply my first project and there was nothing more to it than that.
However – my first SEO client was paying me £3,000 per month exc VAT across two websites, and this was where the real learning began.
I quickly found an SEO team after interviewing multiple providers based around the world and went with a team in India headed up by Semil Shah.
At that time, because I knew that my main focus should be upon building the business rather than executing SEO – I wanted to make sure that I hired the best individual or team possible.
I did the usual sanity checks of background, communication skills, responsiveness, references and all.
And I was looking for lower-end providers initially in terms of pricing. However, 'lower end' providers in certain parts of the world were still actually very good compared to their local pricing potentially.
But even then I realised I wanted a team I could grow with.
From this moment it heralded a period of great change for me.
I decided that SEO was going to be the niche I would focus upon. This idea of recurring revenue which made a lot of sense theoretically, became a practical reality with this niche.
And as I began to learn more and more, about title tags, meta descriptions, keywords, keyword placement and everything that followed – especially with it's connections to content, my love for SEO grew more and more.
The Great Pivot
At the time this came about I immediately decided that 'THIS IS IT'. This would be where I would like to lay my hat for the coming years, and perhaps for the rest of my digital marketing career.
That would mean multiple things I realised.
Purr Traffic as a website and the lack of clarity over the service offering really didn't make any sense anymore.
I needed to pivot the website completely.
But something more than this bugged me.
The truth was, was that as much as Purr Traffic was something that I was proud and passionate about – it WAS NOT my brand.
The name was a derivative of Purr Digital or the Purr Group as it would go on to become, and that was something that didn't belong to me, but rather belonged to Nick.
And certainly, that would be brand licencing fees for a brand it intended to grow as quickly as I possibly could.
And I wanted out. I wanted to grow something I could truly call my own, and not have to worry about it not being my 'own house'.
Realising I Was A Business Owner
The first order of business was to find a new name for my company.
Company!
It's weird looking back at it and saying that word. In the beginning it really was just me, myself and I for several months.
That meant hours spent in Costa Coffee watching video tutorials. Lots of time spent recording videos of different insights I had from my marketing journey over the years. It meant not really knowing where this business was going to go – or whether it was truly going to support me.
It meant me realising that dealing with clients was challenging and that I needed to learn to cope with the questions, the stress, the challenges, the lack of clarity and all that came with it.
But.
It was clear I loved the challenge of it and I guess several years later that's still what keeps me here today.
The challenge of trying to grow a business and solve problems, day by day and one by one (or ideally ten-by-one)
My Rock (it's not Pearl Lemon)
And this first problem as I decided I wanted to step out and build my own brand – was deciding what in the hell that brand would actually be.
At the time I was sitting in exactly the same place I am now, in my flat in Fulham. Strawberry and I were living together now in London – she'd made the move from Italy to live here with me and pursue an education as an Osteopath.
Having her alongside me has given me great strength over the years. She has seen it all.
From my return from 'travelling' and going back to my mum's place after several years of journeying, and seeing me decide I would become an internet marketer, to my failed partnerships and continued attempts to try and grow my business.
For all of our own troubles – when it came to finding success in business – she has always believed in me, without any doubt and even before Pearl Lemon and thinking when we met back in October of 2011 – she has seen it all.
Deep Impakt Recordings, Studiobookers, Gobsmackers, Meet My Tutor, The CV Guy, We Cook You Cook, Haircut Heroes, The Pyjama Part, Viral Viagra (a media site), Purr Traffic, Pearl Lemon, Word Pigeon, Plantsumo, Resumecats, Serpwizz and more.
[Yup, I'm a bit of a maniac].
So amongst the turbulence, amongst all of the madness and the change, she has been the consistent source of strength in my life for the last decade.
And as I have doubted myself, she has believed.
As I have failed, she has told me to get back up.
As I have stumbled, she has helped me stand.
And incidentally, as I decided upon a name for Pearl Lemon….she inadvertently helped me decide.
Discovering The Name
So now that Purr Traffic was no longer the rock upon which I was going to build everything else.
I needed to find a name.
A name.
What name could it be?
At the time, Strawberry had moved me away from using mustard and Vinaigrette for salad dressing and had introduced me to the world of lemons as salad and food dressing.
At first I thought it was totally bizarre because 'that's not how you use lemons' is it?
Turned out I was wrong as I grew used to seeing lemon juice being squeezed over the vegetables we would have for dinner.
Now, I'd always liked the idea of using a name of a fruit as an agency name.
This was where the idea of naming the agency Kukumber had come from. And somehow I'd managed to find that domain available and had bought and tried to grow it.
Of course in hindsight, I'm glad that didn't work out lol.
I think the name we have now is MUCH MUCH better.
But of course using Lemon as one word didn't really make sense.
So there I sat madly bashing in word combinations into namemesh and other domain name finders as Strawberry stood in the kitchen actually cutting lemons.
As I looked up at her I saw once again her necklace sitting there just calling to me.
It was, well…………..
…………
……
..
Have you guessed yet lol?
A Pearl necklace.
And there it was shouting out at me.
Pearl Lemon.
I quickly bashed it into namemesh and then namecheap to see if it was available.
And it was.
And so the agency as you know it today was born.
Pearl Lemon.
Now that the new name had been decided, I slowly began the work of the rebrand.
And now I had the new name, I no longer had the challenge of building a brand name that didn't belong to me, rather I had the greater challenge of building this brand name from scratch.
That meant 200+ videos had been wasted, the local directory listings I'd manually been doing had been wasted. Registering us across all the various social media platforms had been wasted.
Deciding to rebrand had been no small question in my mind.
It was alot of work to start again as ALOT of work had gone into Purr Traffic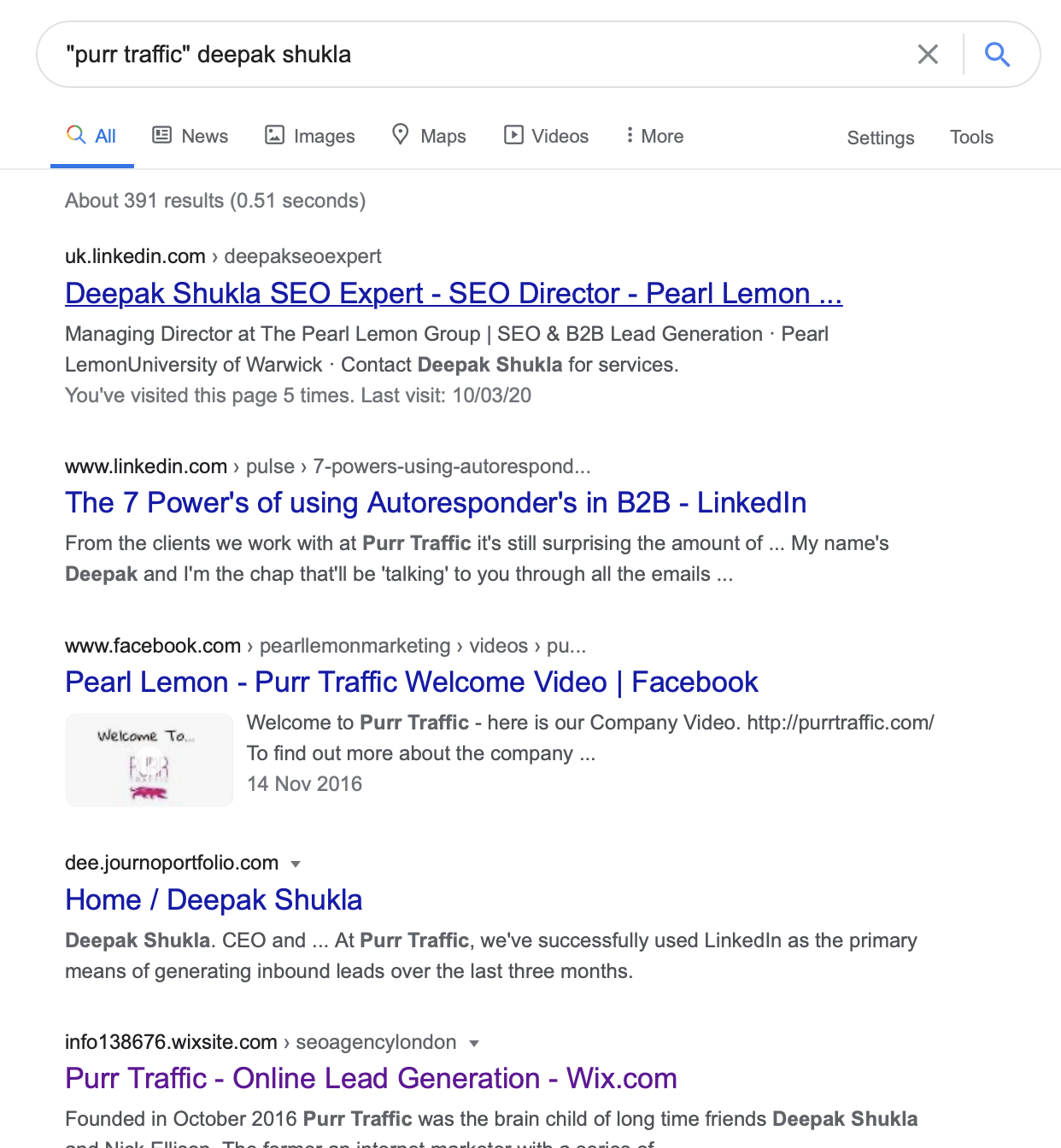 Even now several years later a breadcrumb trail of it still exists online.
So changing all of the content I'd put together for Purr Traffic (where I could) was going to be no small challenge – but it was a challenge I sunk my teeth into.
Now, Pearl Lemon would be an SEO agency that also offered other services, but first and foremost SEO.
Furthermore, Deepak, myself, would be known as a Lead Generation and SEO expert.
This is what I'd do.
The first £250,000 in revenue for Pearl Lemon had actually come from outreach anyway.
Cold email, LinkedIn, Upwork job applications and the like were where the clients came from.
And so I continued focusing aggressively on outreach to land clients other than George and continue my slow ascent.
As clients would ask me questions – it would sometimes send me on a rampant Google when I wanted to know the answer for myself alongside the answers that I got from my team.
I've always had the privilege of being quite anal when it came to my expectation of what constitutes client happiness and so my learning accelerated rapidly in these early days as I took it upon myself to know as many of the answers to their questions as I could.
My First Team Member
By Jan 2018, Purr Traffic had completely become Pearl Lemon, I'd told Nick and we amicably parted ways and kept our friendship intact as it now meant there were no complicated business dealings to get in the way of our friendship.
Along this journey however, I was no longer alone in business either.
Adina Pascall reached out to me in April 2017 to apply for work experience:
She had reached out to me on LinkedIn on April 7th 2017. We spoke 3 days later on the 10th April, and she became the first member of team Purr Traffic as it was then.
Adina was instrumental to those first years, in helping to grow the business and helping me to actually build my brand more and more.
It's crazy looking back at her journey with us and all of the things she worked upon and how it all began:
Naturally, upon starting her journey with us- she hit me with an irresistible offer – unpaid work lol!
And with that paid work would soon follow and lots of experience with it: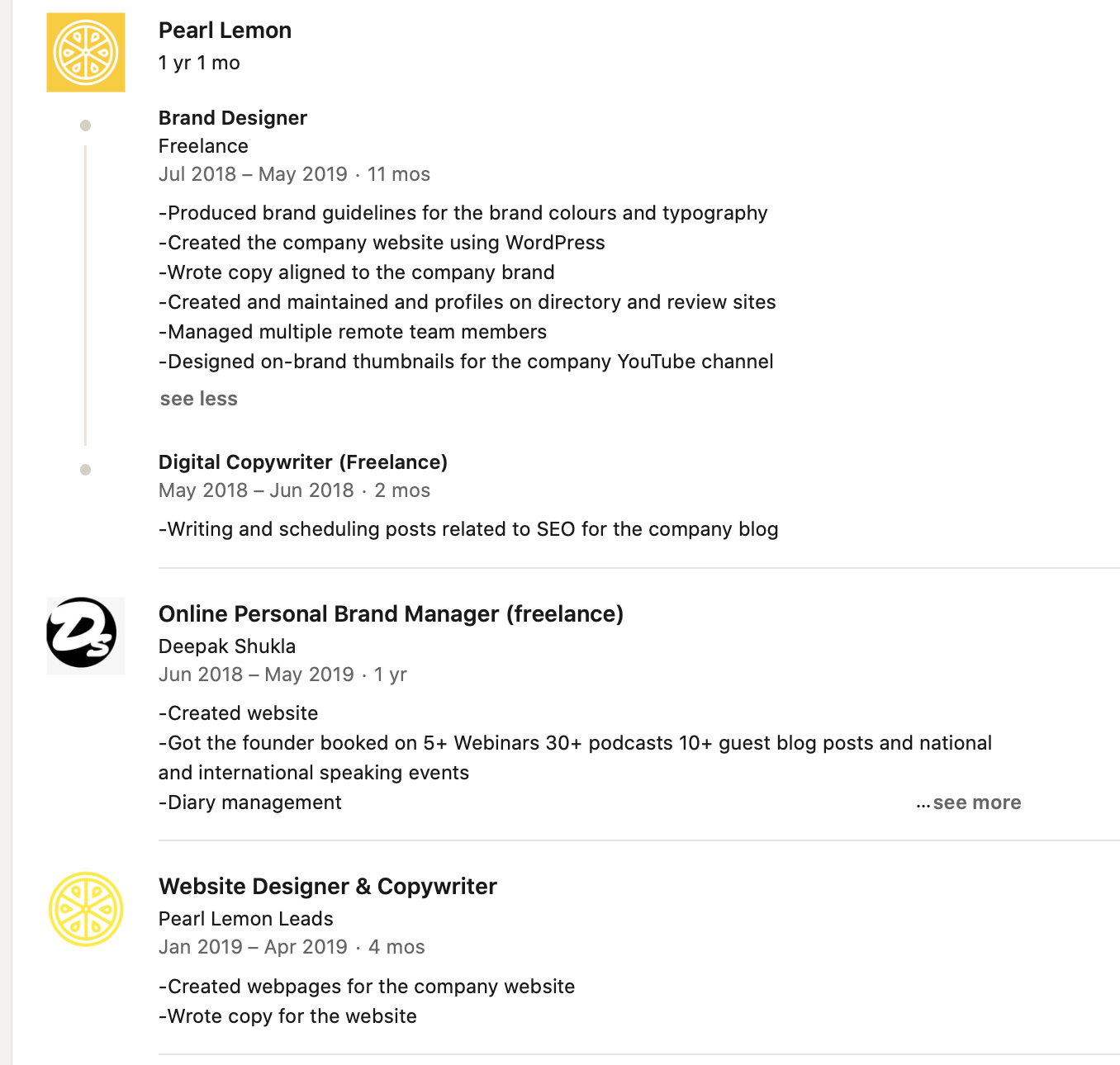 Looking at where Adina is now – she had always wanted to get into UX/UI design – and it looks like she has successfully made that transition.
I'm proud to look back at all that happened and to realise that I was (I think) a pivotal part of her growth from switching from economics which was her major at university into a completely different field.
Helping students, and young (and older) professionals alike was something that I really enjoyed and it's gone on to become an instrumental part of the Pearl Lemon experience.
The chaos of the early days
The early days of trying to grow Pearl Lemon and the Deepak Shukla brand are somewhat blurred.
I was trying to learn, action, and implement so many things all at once.
Over the years I would record over 1,000 videos on YouTube, I would produce courses on Udemy, Skillshare and become a real practitioner of digital marketing.
I would have challenges with my SEO team and bounce between several other teams I found online from Birmingham, near Sydney, Australia, from London and ultimately return back to my original team with Semil in Vadora, Ahmedabad, India.
In this time, I got to learn more about SEO, about the technical challenges, about link-building, sitemaps, different CMS's, the need to hire developers, content writers, email outreach experts and to build better and better processes to help support the team.
I don't think I was a particularly talented business owner or people manager and along the way there have been many trials and tribulations.
I've had to learn alot about how to manage teams, manage client expectations, learn more and more about SEO and figure out everything in between.
I'd send invoices without VAT attached, not realise I needed to do that, not understand how to do that and get an education from my clients (thanks George) on what was needed.
There were clients who said we'd done nothing onpage on their website and called us frauds and that would lead to me firing people, learning more about onpage SEO myself, understanding how to vet SEOs better and identify what metrics were important and what weren't.
Along the way I kept building out more and more processes, video explainers and doing what I could to manage client expectations and keep growing the company.
I would shout regularly at my team, get frustrated, and realise I just didn't know enough about my craft to form proper judgements.
The development of Pearl Lemon
As time progressed and the company began to grow – it experienced its own share of turbulence.
I got two business partners involved – both experiences being ultimately bad ones that in hindsight only served to slow down our progress.
Pearl Lemon ballooned into Pearl Lemon Convert, Sales, Leads, Properties and Invest. I only recently got rid of Invest, Sales and Convert as I went through a website consolidation process.
The Placement Programme
The company has come a long way since bringing in Adina – the first ever team member at Pearl Lemon.
I then would go on to build out an internship programme to add value to young people looking for work experience alongside those wishing to potentially find a full time job with us.
It's been an amazing experience being able to build out the programme and meet such talented people along the way.
I didn't envision that I would find Lydia, Federica, Tenny and many more who are coming through on the programme.
When I've seen testimonials claiming that some of our placement people have learnt more at Pearl Lemon in one month than they have learnt in years of academic experience is such a massive compliment and it's been incredible to see the programme grow
I think that having such a unique programme (I encourage others to build their own) has definitely given us a competitive advantage in the digital niche that also adds value to the people that come through the programme
Today
Today is the 4th of December 2020 and it's been a little over 4 years since I entered the agency space.
What a journey it's been.
I'm sitting here in Cafe Du Coin in Fulham sipping a cup of Earl Grey tea thinking about where Pearl Lemon is going alongside the roots it came from.
We're partnered with SEMRUsh, we've got a growing name in the digital marketing space and I'm excited to see what the future holds for us.
I didn't think I'd end up being a digital marketing agency owner but of course I'm sure most people these days have no clue what they'll be doing in 5 years let alone 1 year.
The Future
It's fantastic to see the team grow, to see the programme grow and to see us help change the lives of people around me.
We're now branching into PR, PPC, Content Writing alongside the development of apps.
We have three SaaS apps in various stages of development, (Serpwizz, Omnireach, Resumecats) as well as me having entered the food business in the form of Plant Sumo which is crazy as well!
If you've read any of our historical posts you'll know that I'm focussing upon SEO as being the main driver for our success and seeing leads come in.
I'm also taking training from Udit Goenka, Paul Lovell, Craig Campbell and Max Newton to help me become a better marketer.
I'm excited about what the future holds and love the power of digital marketing and what it can do to grow your business.