Buying An Offplan Purpose Built Student Accommodation In Liverpool For £65,000
Reading Time:
7
minutes
Pearl Lemon was doing well.
We were a small business and once I started building some capital I began looking around for property investment opportunities in September 2017.
My father and others around me told me this was the sensible way to invest money into property.
And so – I wanted to find a property that would give me an amazing return.
Buying in London seemed totally unaffordable with house prices being from £200k+ at a minimum even if we were looking at Zone 6 West London.
My paltry £40,000 on hand wouldn't make a dent in what was required, and as I'd get advice from a mortgage broker and my father and uncle upon asking – I didn't have enough trading history for Pearl Lemon to get a mortgage.
I'd been in business for less than two years which limited my options.
After some rampant googling I came across the world of investment businesses that specialised in helping high-net-worth individuals acquire property to then get handsome returns.
This particular company – Experience Invest – specialised in assisting with buying student properties across the north of the country.
I double-checked with my Uncle to understand more about how this worked and if he had any experience in this.
What I was buying into was an off-plan purpose-built student accommodation
I'd never heard of the thing before but as I found out it was a pretty interesting model.
Investment companies such as Experience Invest – the company I went with (and there are many others) partnered with developers with a proven track record of growth to raise funds for new property builds in areas where the demand was needed
Liverpool – and the development I have invested in (Aura as you can see above) seemed a prime location for this opportunity to arise.
Given I'd get in early it meant I could command a price that would be well below the development's ultimate value.
And here where the numbers that I had sent over:
They projected an ROI of 71.11% over 5 years.
The total money in was £63,000 and I'd return £5,395 net income per annum every year alongside the value of the property projected to go up by close to 30%.
The numbers on paper (like many deals) seemed fantastic.
I asked my uncle if he had any experience with this – and my uncle when it comes to property was someone I implicitly trusted with him having several properties himself.
He did not.
So, in this case, it was on me.
I did my best to be thorough and here you can still find the 14-page document I put together with all of the due diligence questions that I felt were pertinent before agreeing to this deal.
I asked as many questions as I could think of that felt important about the company, company history, happy clients, other deals and further general due diligence.
Through this line of questioning, I discovered that the nature of the deal was particular in several ways:
It was off-plan so there was nothing to head up to Liverpool to go and see – it was a building site for the moment
Being purpose-built for students meant it was a very particular market – I couldn't sell it to Joe Public – I'd need to sell it back to the developer but more than likely back to a property investment company like Experience Invest
Really this meant it has a limited pool of buyers and the sale price would be commanded by their ability to sell it down the chain to another prospective buyer
The nature of the deal meant there were stamp duty or mortgage broker fees as I was buying it in cash
Given the nature of the accommodation, it wouldn't interfere with me being a first-time buyer
It had a 'long-stop' date which meant if it wasn't ready by Sep 2019 they would ultimately refund you the money – but most of their construction did finish on time
It all seemed to make sense and whilst my Uncle mentioned that it may be difficult to sell it later on down the line – I figured that this would be my first real means to generating a passive income.
And to cap it all off – the place itself – the 3d rendition of it looked excellent:
It was a brand new build and I was buying one unit of around 12 that were in that dorm.
There were other investors buying several units at once – I had the budget for one.
Amongst all of the investors (many of whom were overseas or high net worth) – it definitely seemed that I was something of an oddity in this environment.
I had no residential or buy-to-let properties – and here I was making a cash purchase of a PBSA.
Over the course of an intense 6-days, I ultimately made a decision that this was going to be the deal for me:
I went backwards and forwards with James via email as well as on Whatsapp.
He was my appointed account manager and had been supporting me with all of the questions I had about making this investment work.
I'd gone on into the office, talked through the nature of the deal and everything seemed to set so I finally took the plunge.
I got the lawyer's appointment, reserved the plot alongside the Experience invest £5,000 upfront fee from me and off I went.
This (and I didn't know it then) was my first true experience of working with a property source ultimately.
Now I went through the process of arranging all of the administration they needed and off I went, some £30,000 later expecting the property to be ready within 12 months.
That was October 2017.
2 years later……………………….
Still no property.
Instead – the development had been mired in delays.
There had been one tenant in a building they were knocking down that refused to leave they were not aware of.
Then when they started digging they found substructures which needed to be investigated to understand their archaeological importance.
Then the developers ran out of money because of all of these delays and asked its investors (us) for an advance upon the deposit still pending:
Then the long-stop date (by which point we were meant to be renting and earning) got pushed back another year which I didn't know was possible.
After all of this, I asked for a refund which I was effectively told by my lawyer (as recommended by Experience Invest) – you can have it…
But God only knows when you'll get your actual money back.
As I dug deeper into the space I discovered that delays like this were very common and ultimately there was little I could do about it.
______________________
As it stands (at the time of writing) I still have no property and nothing really to show for it.
The latest investor update I've received shows me this: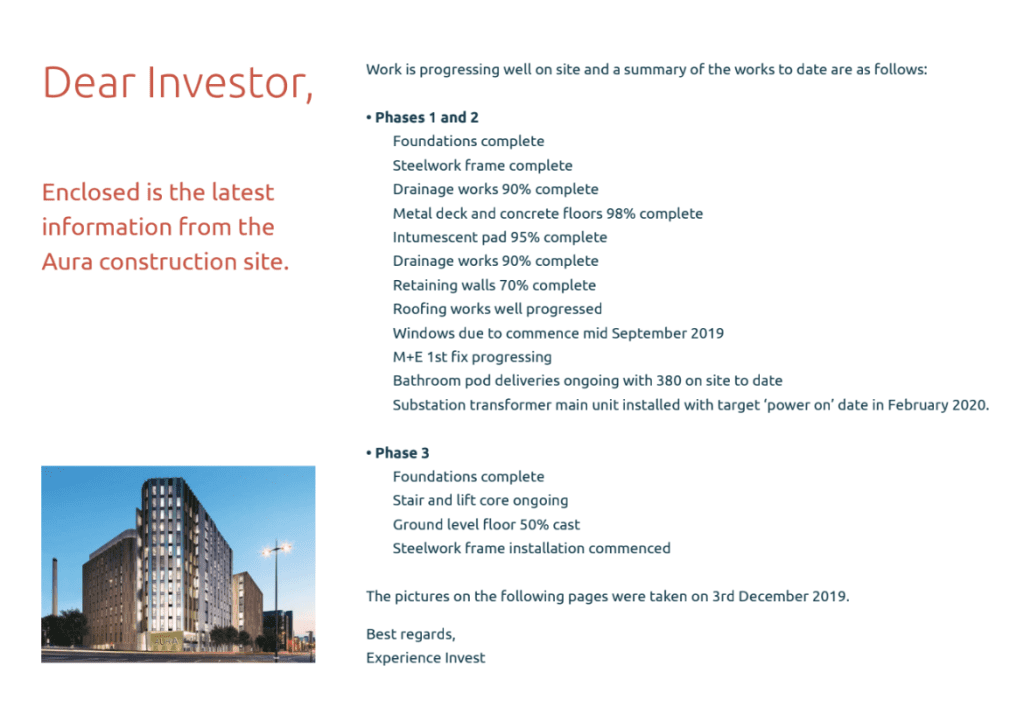 This is promising because it shows that maybe something is actually going to be built and I haven't put my money into a black box where nothing comes out of the other side.
My parents and everyone in the immediate family were excited by what I'd done and its possibilities.
As time has passed, however – I realised several things.
I am at the mercy of the developer and therefore it's the same for the investment company.
The investment company in this scenario do extremely well as they make money from all sides of the deal
The developer pays them, we pay the investment company, the lawyer gives them kickbacks, we can't sell the property without this investment company, and they get a cut of all management fees upon the build getting rented – it MASSIVELY pays to be the commercial partner to the developer rather than the retail investor.
Locking £62k into one property is a bad way to spend money – with that same money you can buy three properties up north and achieve a gross rental income of over £1300 per month with a mortgage of only £240 per month. That's £1k per month!
Furthermore, the total value of your properties you'll accumulate in this scenario is £150k+ versus the projected £80k+
Some of these lessons I was to learn over a year later as after having a negative experience and having drained £30,000 of my capital – I was in no mood to reinvest in the property.
So having had a bad experience with buying an off-plan PBSA I kept moving forward with understanding how I could make investments in order to build my financial freedom.
Back to Googling I went and landed upon a new world of alternative investments that would again take me down paths unexpected – which I'll tell you about in the next letter…..