A Day In The Life At Pearl Lemon (w/Deepak Shukla)
Reading Time:
5
minutes
So.
Writing has become an outlet for me to share my musings over things I'm doing and thinking about and wanted to share what's top of mind for me at the moment.
I've just taken on several new sales professionals:
Jay (25+ years experience)
Marc (5+ years experience)
Lydia (internal team member trying out sales to then move into sales support)
Jude (in talks with him to work on outbound)
It's something of a whirlwind suddenly having 3-4 new salespeople to work with alongside my current team.
But it's forcing me to get the game in order.
I've outlined the revised commission structure which I've shared with them all now – Marc is definitely pleased with and the rest of the team is all ok with it as well.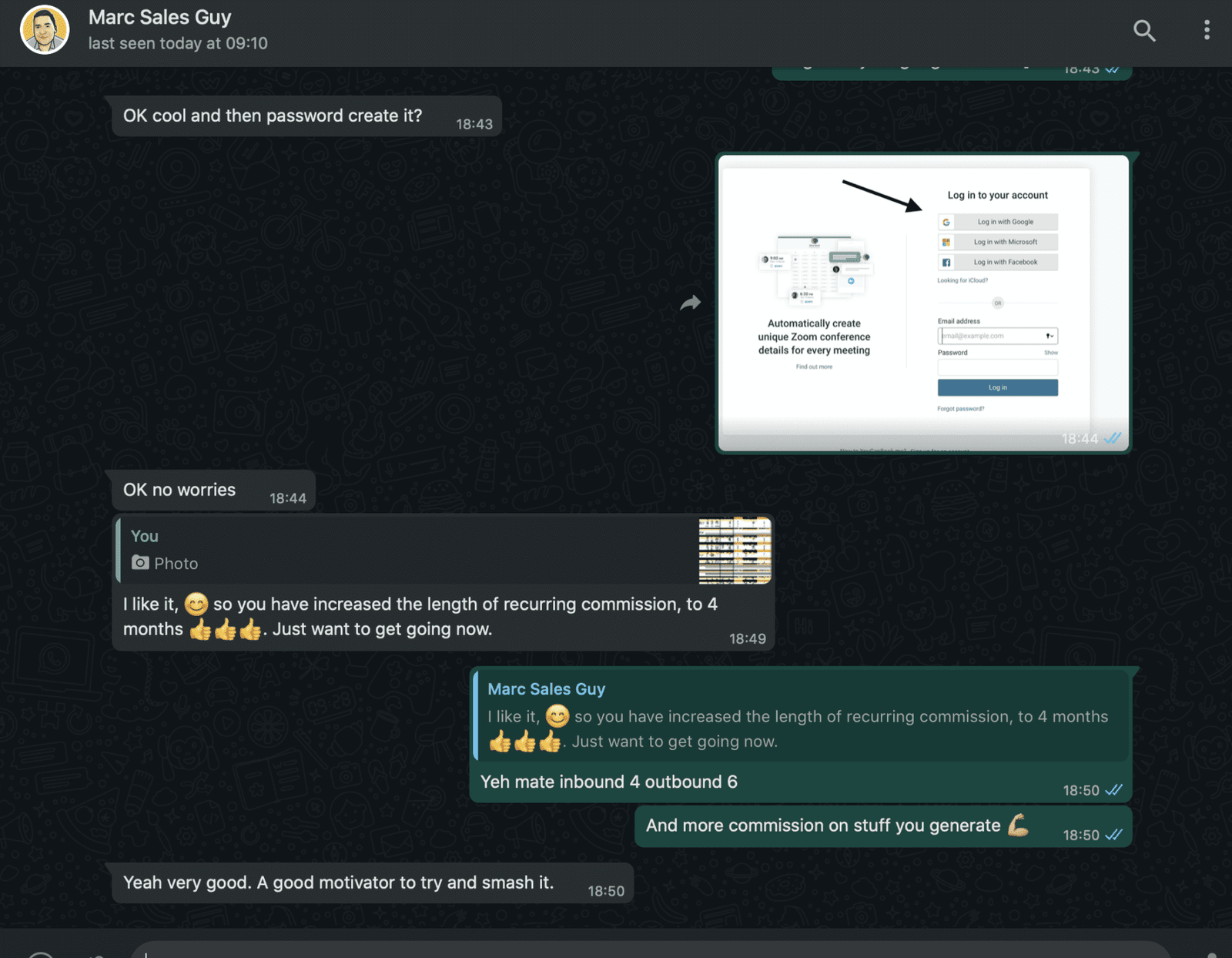 Jay and Marc were actually recommendations from my buddy Ryan over at Commission Crowd (I've just recorded a course for them actually which should be good). Apparently, Marc had reached and we'd never followed up.
Jay has been burnt by his last agency so was looking for a more trusted partner to work with – enter Pearl Lemon.
It's great having a sales team who have way more experience than I do when it comes to closing deals and I'm looking forward to seeing how this journey unfolds.
If even one of the new 4 does well – that'll really add some more strength to the Pearl Lemon bottom line.
____________________-
One of the products they're selling is actually Omnireach which has 500 odd leads in a spreadsheet lying around (i.e people that accepted our connection requests on LinkedIn to discuss the tool further).
So I checked in with my Co-Founder Sabelo to find out how it's all going and he confirmed that this is his #1 priority which was great to hear
Next in line for our journey is building a calendar tool (i.e an alternative to you can book me/calendly and the like) – it's a competitive market but also a growing one and we think there's enough space for everybody
He told me he plans to start development for it over the next 30 days.
Outside of this – as our SEO prowess continues to grow I'm seeing our link-building activity increase as we're able to get higher quality links at a faster pace which in turn is driving growth across all of our websites.
I'm now thinking about:
PR Agency keywords
Cosmetic Surgery keywords
Lawyer SEO keywords
Dental SEO keywords
And am tasking the team with beginning the journey of building landing pages + blogs for the above so we can start the working of ranking them all
Quick insight:
I saw a PR firm 'Hope and Glory PR' did £7 million in billings last year and I thought 'wow – I'd like to do that!' so I've tasked the SEO team to start looking at all the top agency backlink profiles to start doing some competitor link-analysis as a means to get started.
I will at some point ask the guys to figure out how they do outreach so I can feed this into our sales teams activities
_______________-
Other things that have happened in the last 48 hours are:
We've gone live on Deliveroo with Plant Sumo, and the entire team has left feedback on how to further improve the website for it
We've got 3 potential new starts on trial, 1 writer, and 2 digital marketers to help add more firepower to the team
We got a Forbes mention which was great and I've now asked Heather (our Head of PR)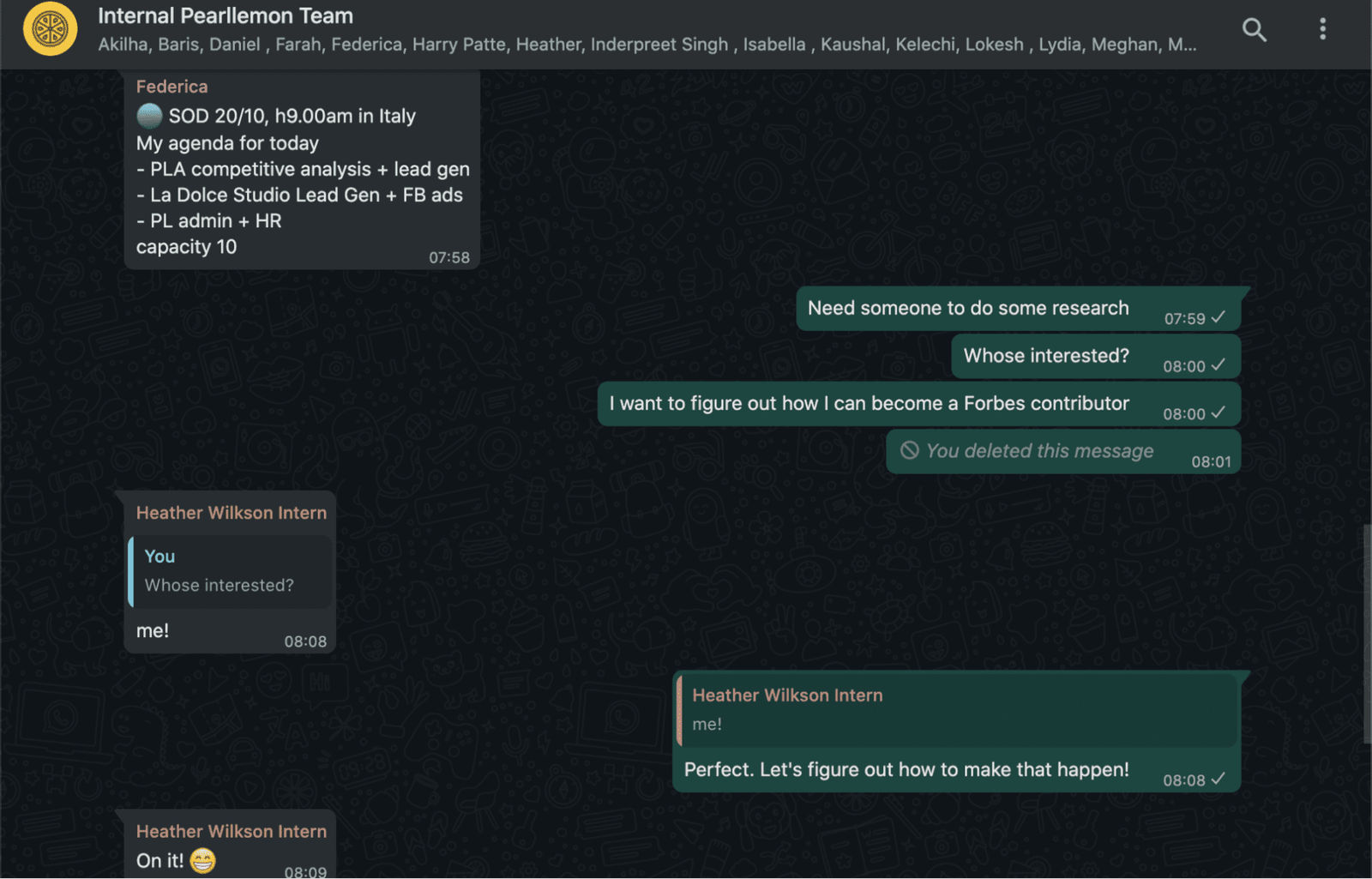 ____________
Pearl Lemon academy has taken on a new partner at the ground level which is exciting.
Sam from Consortiaco and I are looking at partnering on the growth of this new training company.
It's something that we're in the process of hammering out the terms and how it would work between us. We're using a combination of loom video + whereby calls + WhatsApp to discuss everything.
Some of the pieces of this business are firmly coming together and we've already discussed working between now and Jan to build out a proof of concept – and from there we'd raise money so we could have a proper crack at this.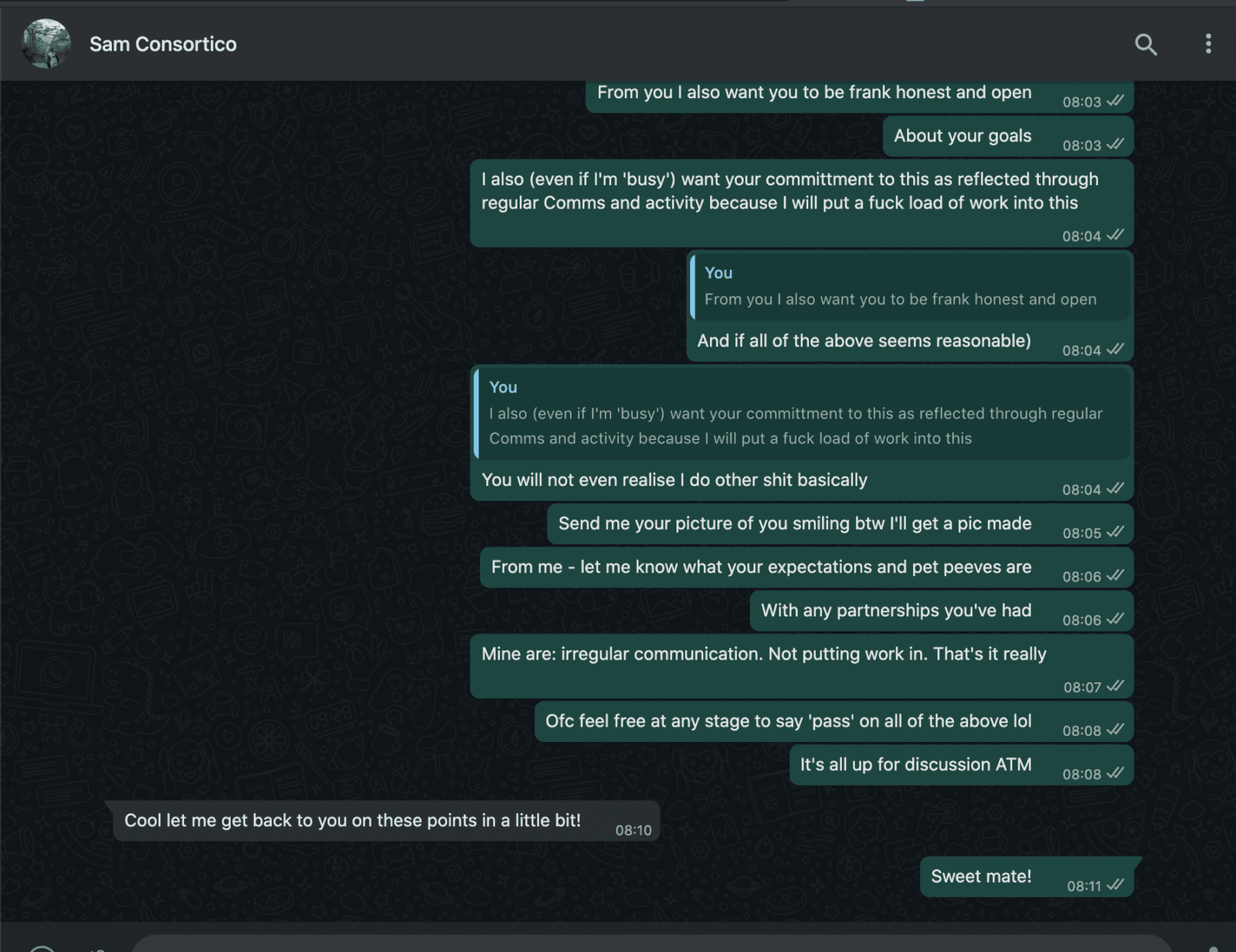 We're looking at Jolt as a potentially exciting competitor and business to model ourselves (to a degree) around – I'm in the process of becoming a speaker for them – but ultimately it looks more and more like our model is going to be pretty different from theirs.
Federica – the HR success manager at Pearl Lemon will be switching almost exclusively to Pearl Lemon Academy from November as the Head of Operations.
Between us, with Sam and his experience in the B2B (business to business) and B2G (business to government) and my B2B and B2C (business to consumer) experience and Federica being used to 'working in the trenches getting things done – then it should make for an exciting team.
This is the first time I've really made a decision that 'hey – here's something that I want to raise money for'. So it's going to be very exciting to see this come together.
____________
I'm also (slowly) listening to Chris Voss's 'Never Split The Difference' which is an excellent book on the art of negotiation – really enjoying this read as well.
It's one of those books you must read slowly to get the full value from it – things such as 'starting with getting no's' are incredible to me – things I haven't often considered.
It also builds upon the HUGE importance of tonality which Belfort talks about.
In conjunction with this, I'm reading 'Natives' by Akala which is very inflammatory and a brain-jolting read, alongside an introduction to Carl Jung – a man I'm growing to respect more and more.
I listen to about an hour's worth of audio daily and take notes.
Of course – getting into the habit of producing content on a daily basis is becoming more routine as well (this you know about).
___________
This is all the 'stuff' I tend to work on in the mornings before 11 am.
I wake up at 430am so I get a decent amount of time to work on stuff that I enjoy (ergo all of the above)
From that point onwards I get wrapped up in the calls that populate my afternoon e.g:
Without the early start – I'd hate myself as then my time gets owned by other people – although as you can see I make sure that lunch always happens 🙂
___________
And yeah, I didn't even bother telling you about my calls (which I will now)
Daniel Madrid – signing up to an agency platform in the instance they supply us with business
Sam – prospective client
Michael – new client
Isabella – internal call
William – prospective client
Sandra – PR interview
Daniel – internal call
Test. Optimize etc – podcast feature
Right, that's enough for today – it's 941am
Time to start my day haha